EYFS Portfolio
Please see our portfolio of evidence for each of area of learning below.
Communication and Language
Speaking: Nursery have been using vocabulary that reflects the breadth of their experiences and using talk in pretending that objects stand for something else in play. The children pretend they were on the bus "I'm going to the seaside to build a sandcastle." They has also been role-playing visiting the doctors, "I'm poorly, just there. Make me better." The children could use language to explain what they had been doing, "I was singing Twinkle twinkle with my friends."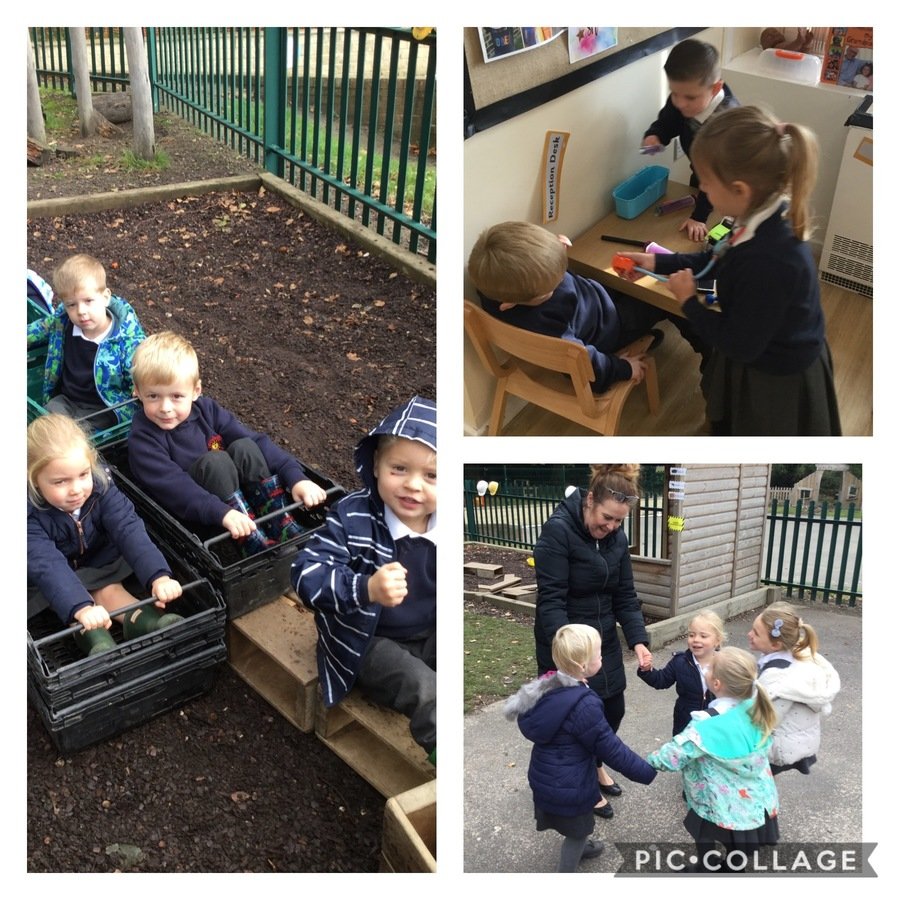 Physical, Social and Emotional (PSED)
Making Relationships: Nursery are learning to be good friends and look after each other if ever they are feeling sad. We have been been learning about friendship. They mixed colours by joining hands with their friends. Then we made a friendship Rainbow with all the special handprints.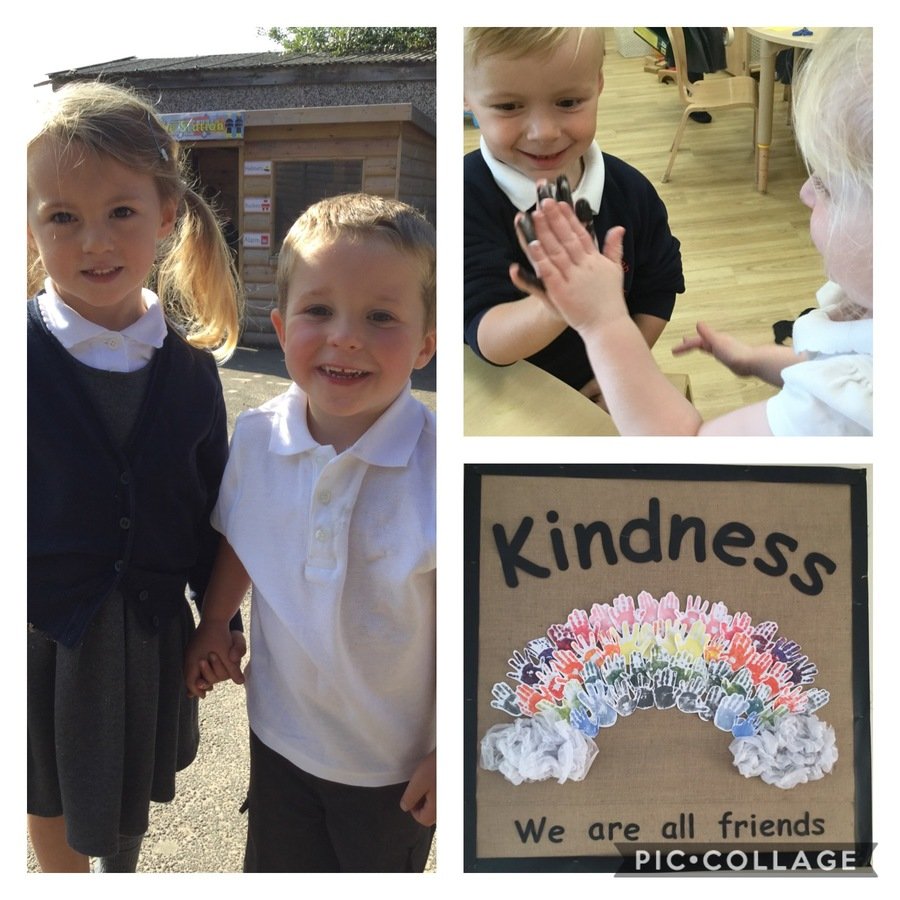 Moving and handling: Nursery enjoyed Go noodle as part of our 'Staying healthy' week. We learnt about many different ways we can be healthy including eating a range of food types, exercising, getting plenty of sleep and drinking water.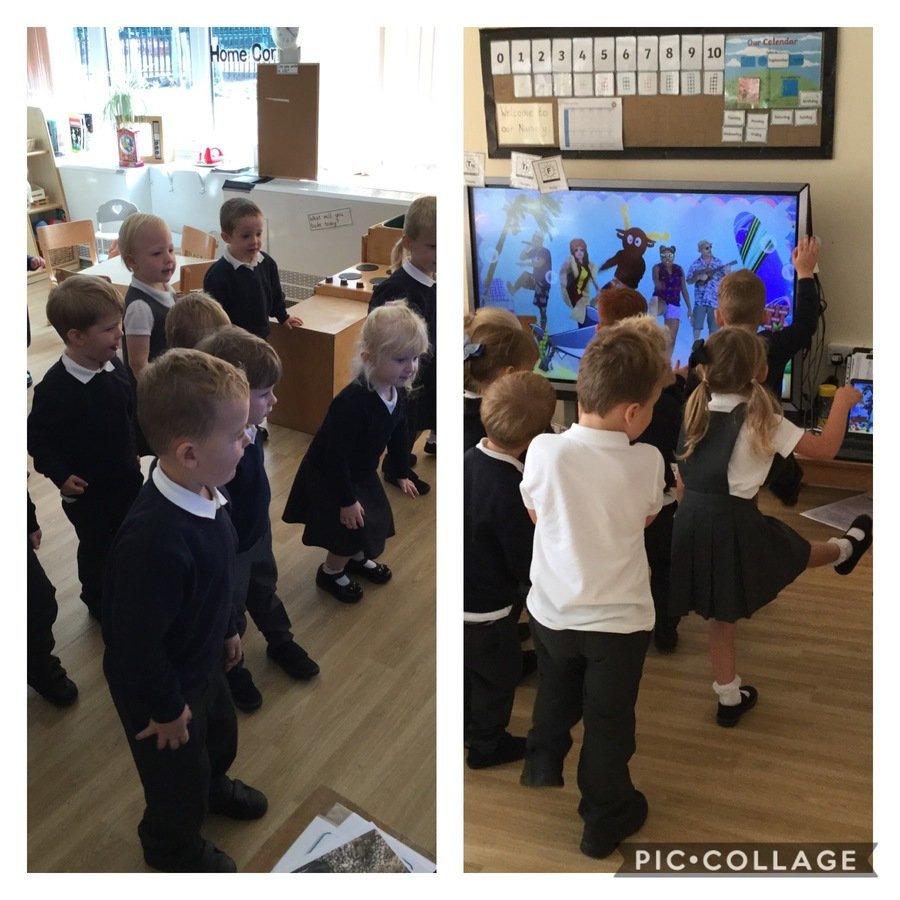 Writing: Nursery have been trying out lots of skills to help develop the muscles in their hands and fingers. They caught feathers using their pincer fingers and threaded cotton reels onto string. They have been making a range of marks and giving meaning to the marks they made. The children enjoyed making marks in the glitter tray and 'writing shopping lists' in the home corner.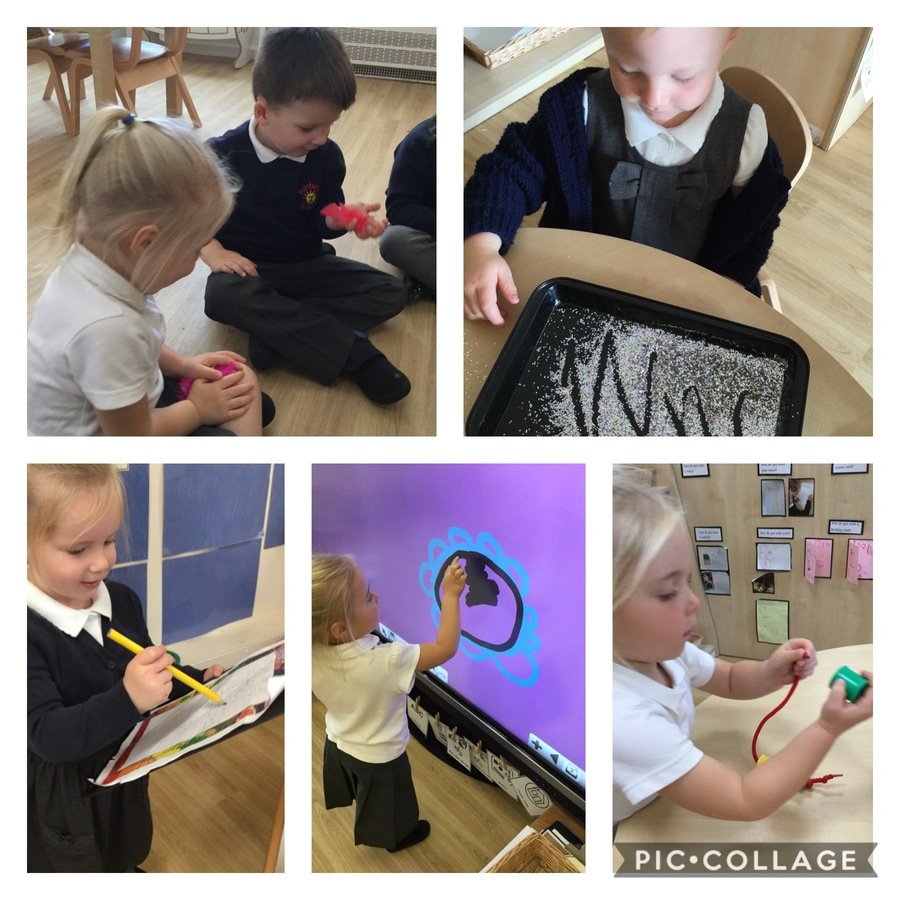 Writing: Reception have enjoyed writing in lots of different contexts during the autumn term. They have written registers, written cards and letters in the post office and have drawn and annotated construction plans, just to name a few!
Writing: In literacy in the autumn term, Reception have learned to write a range of genres, including, labels, lists, instructions and fact writing, as well as how to write their own name.
Reading: Nursery have been handling books carefully and accessing them independently. They have been repeating familiar phrases from stories and rhymes. In the home corner children have been showing interest in everyday print and illustrations in magazines.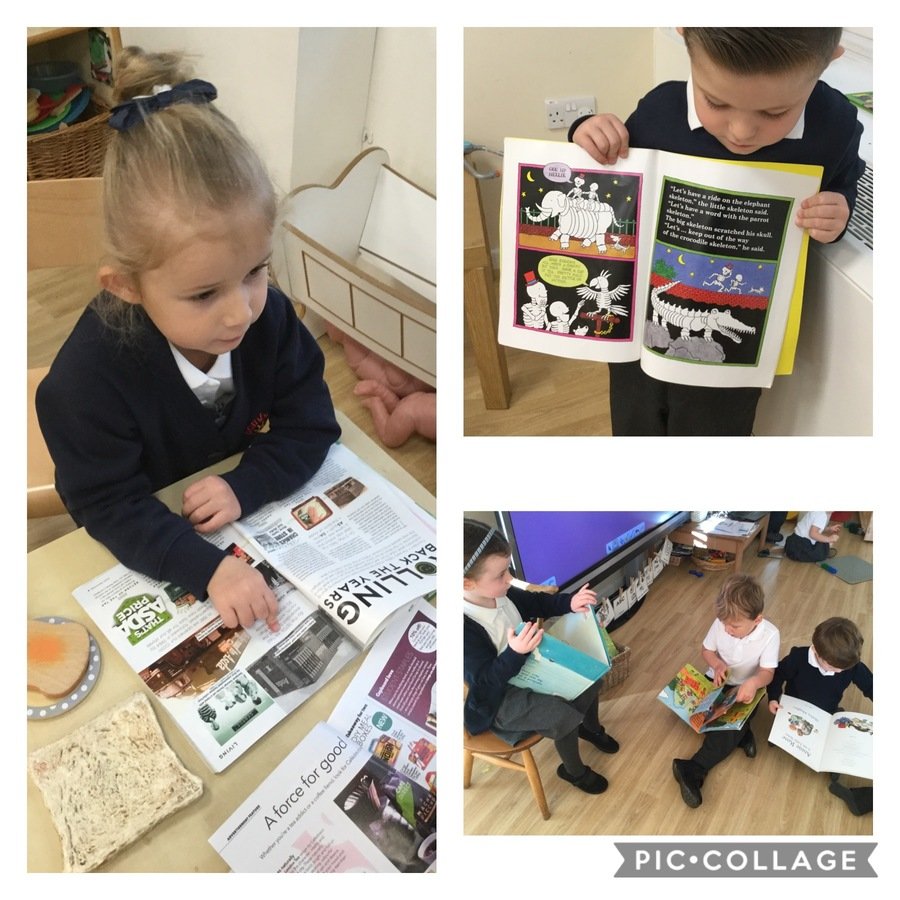 Reading: Children in Reception have been learning how to recognise graphemes and blend CVC words.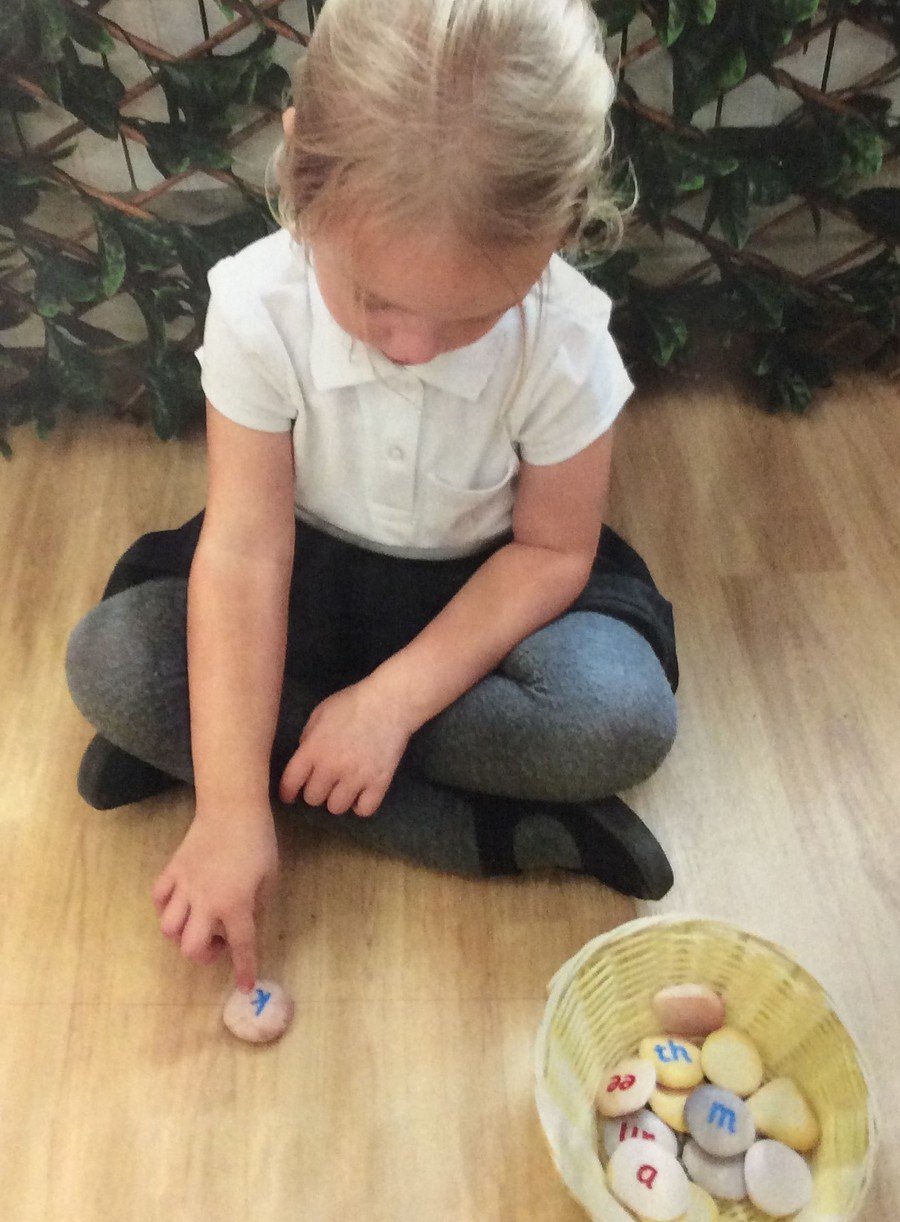 Reading: Children in Reception enjoy sharing books, magazines and other texts with friends and enjoy reading independently.
They know that they can find information in fact books.
They use pictures to tell stories.
They retell their favourite stories.
They recognise sounds and words.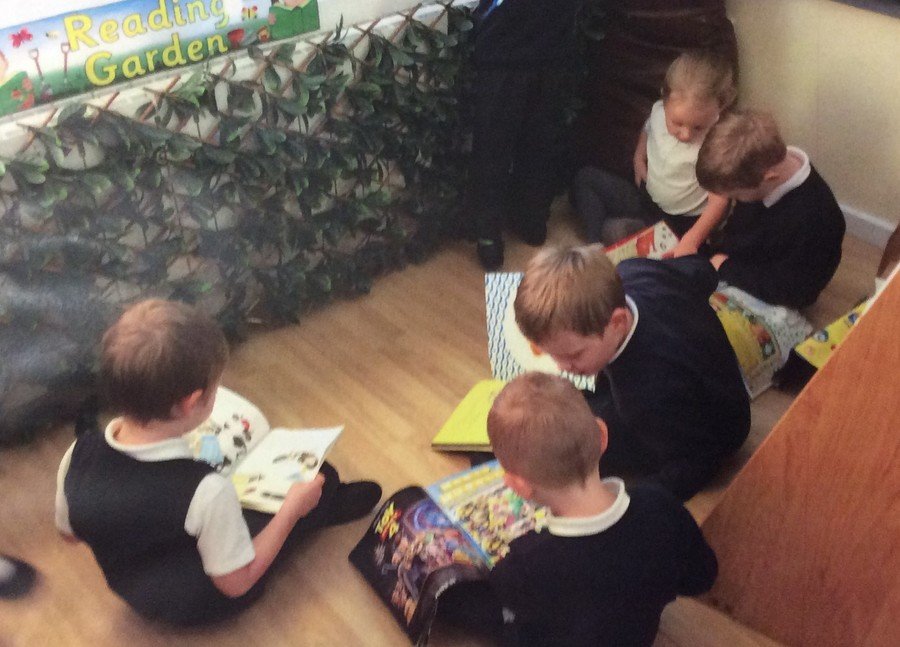 Number: Nursery have been using Numicon to help them learn about numbers and counting. They touch the holes and counted slowly and carefully. The children explored the Numicon shapes, pegs and boards in a play tray during free flow. They matched the correct number of pegs to the Numicon shapes.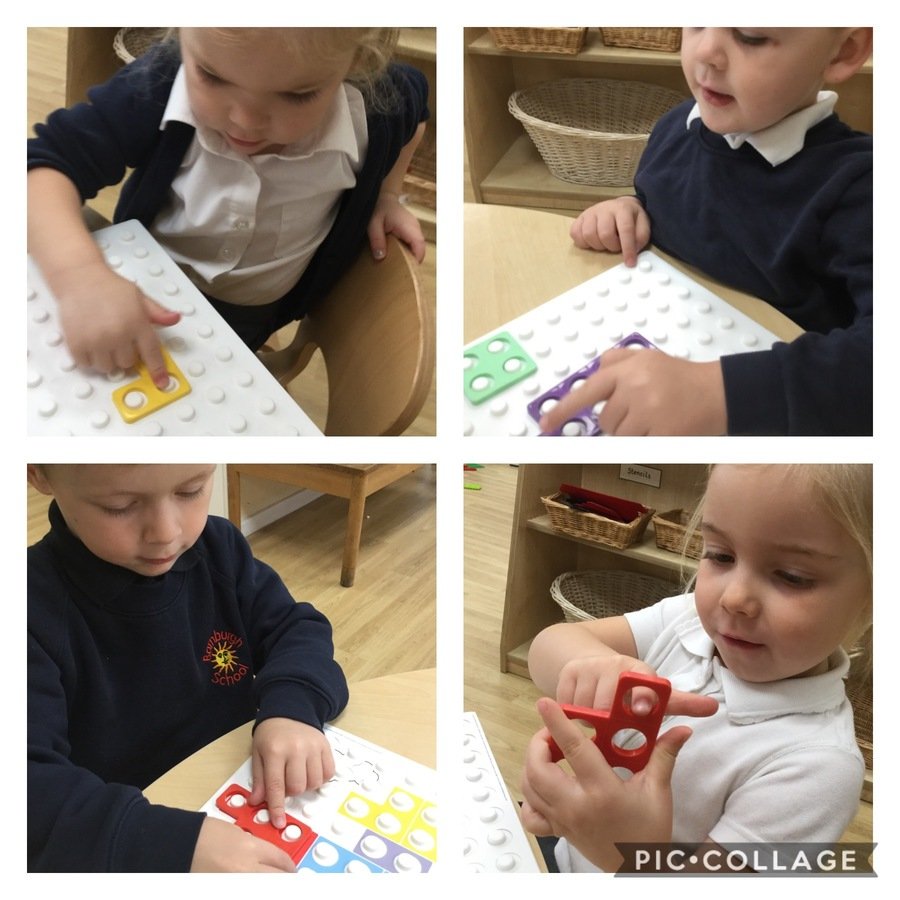 The World: When Nursery went on an Autumn walk the children learnt about detailed features of their environment. The children could talk about things that they observed, for example, the changing colours of leaves and how they were falling to the ground. They found out about about seasonal changes and learnt a song called 'Autumn leaves.'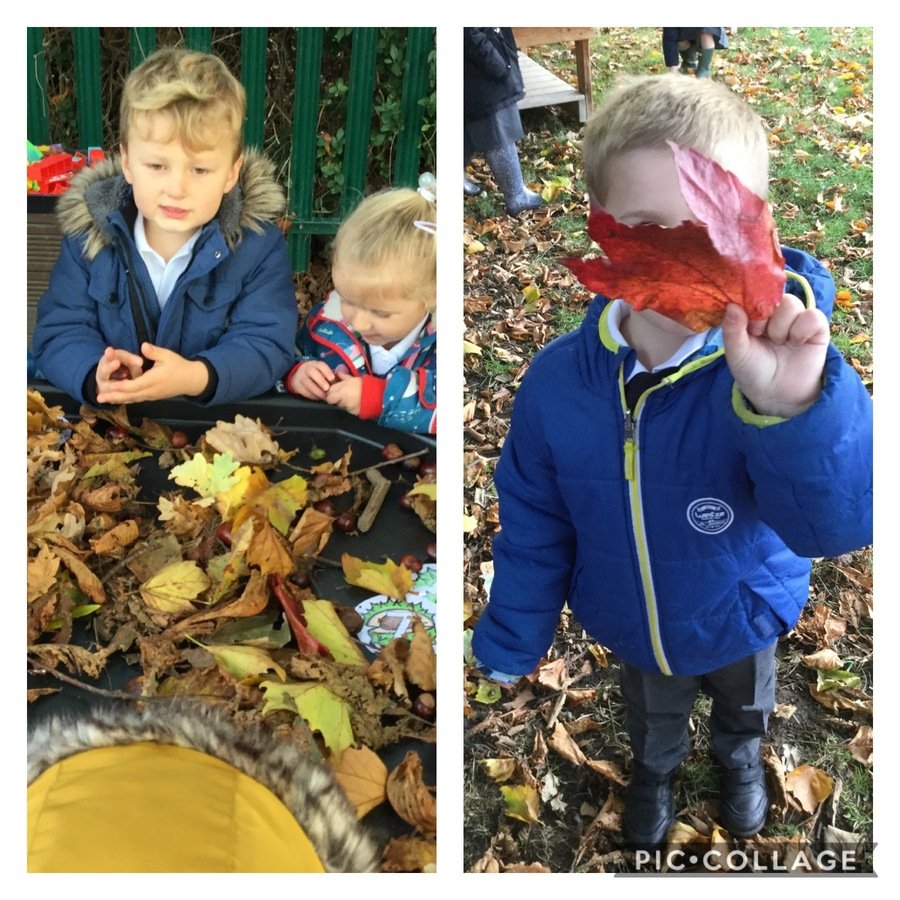 Expressive Arts and Design
Being imaginative: Nursery have enjoyed taking on a role in their play using available resources and finding props. The children had great fun making a bus in the construction and then deciding where they were going to visit. When they were playing outside they enjoyed singing a range of familiar songs.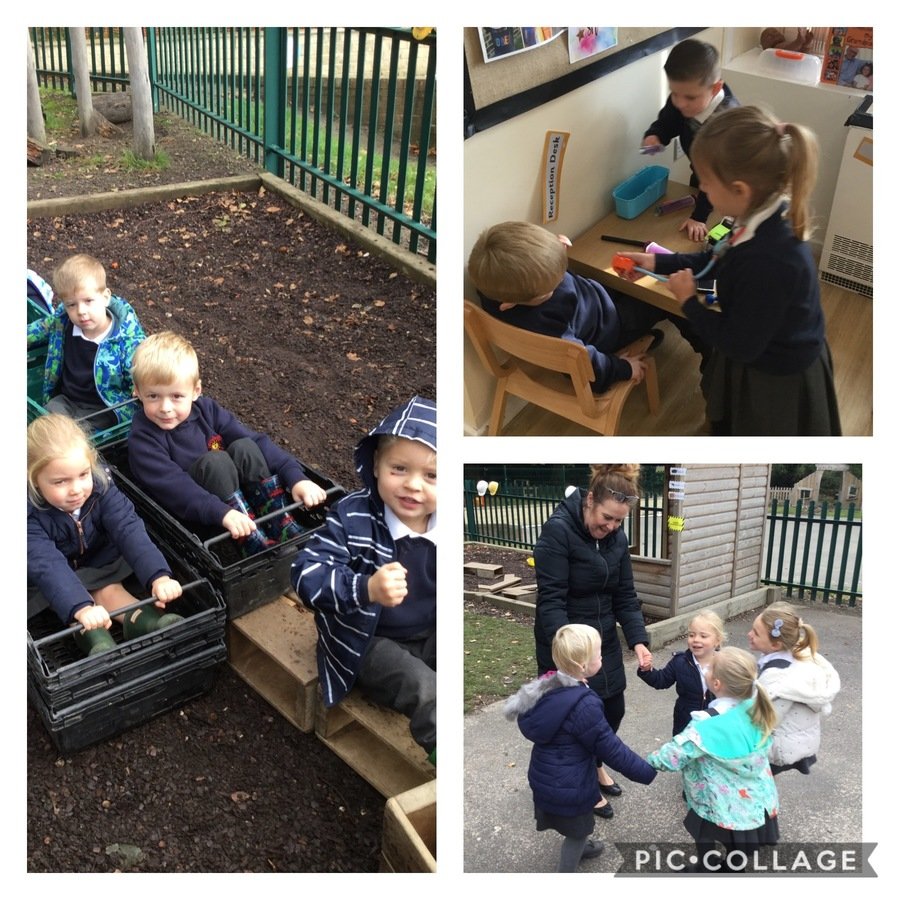 Exploring and Using Media and Materials: Nursery enjoyed learning about Mono printing. They enjoyed exploring paint and making different colours, effects and marks in the paint. Once the print was complete they used a range of collage materials to decorate the print of a family member.