EYFS Portfolio
Please see our portfolio of evidence for each of area of learning below.
Communication and Language
Speaking: Nursery have been using vocabulary that reflects the breadth of their experiences and using talk in pretending that objects stand for something else in play. The children pretend they were on the bus "I'm going to the seaside to build a sandcastle." They has also been role-playing visiting the doctors, "I'm poorly, just there. Make me better." The children could use language to explain what they had been doing, "I was singing Twinkle twinkle with my friends."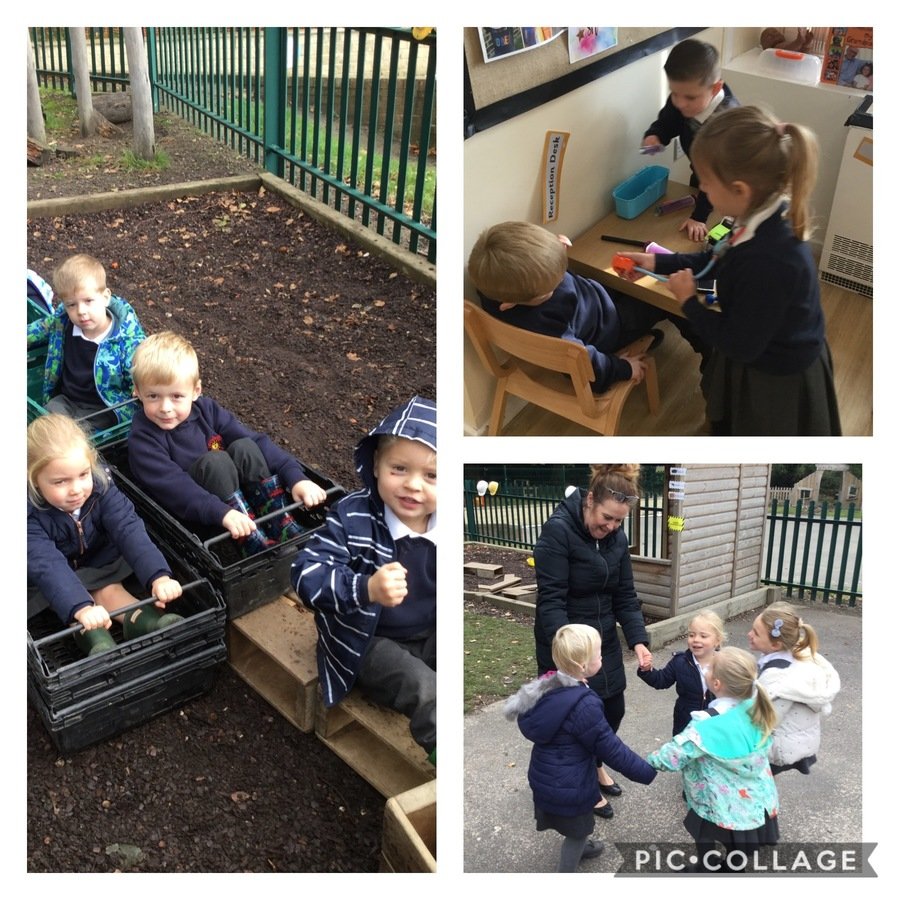 Speaking - The children have been developing a range of vocabulary linked to our topic. The children explored the ice and discussed how the ice feels and what happens when we touch the ice.
Personal, Social and Emotional Development (PSED)
Making Relationships: Nursery are learning to be good friends and look after each other if ever they are feeling sad. We have been been learning about friendship. They mixed colours by joining hands with their friends. Then we made a friendship Rainbow with all the special handprints.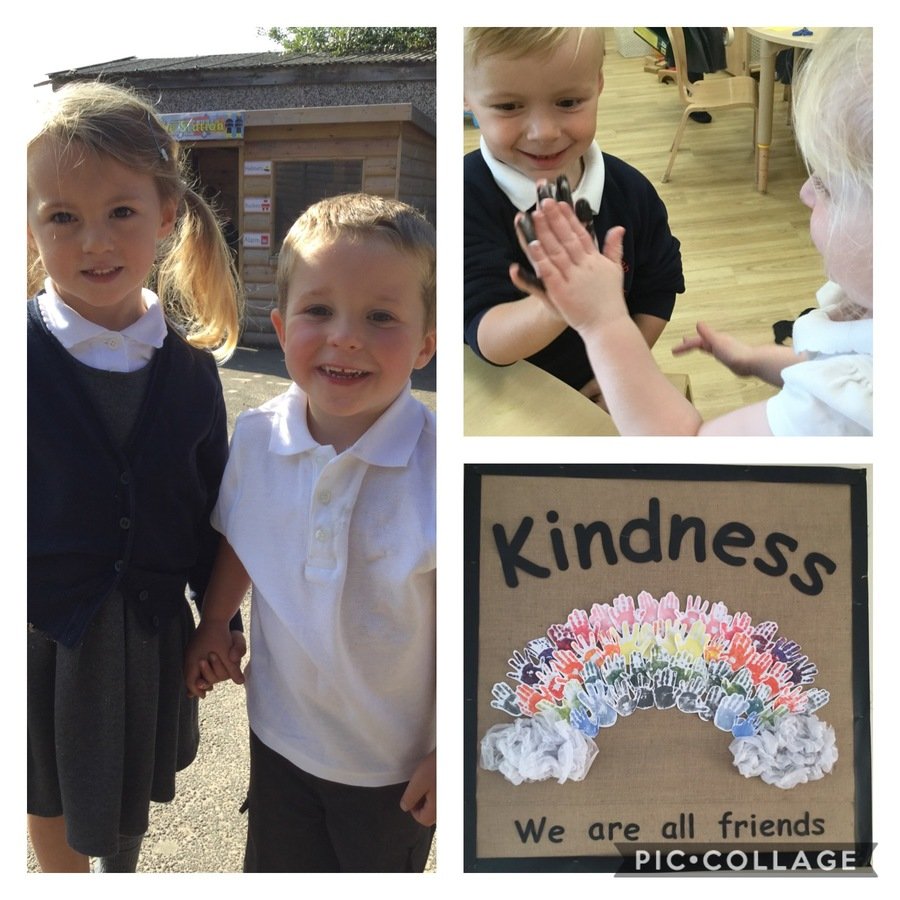 Sense of Self
The children are confident to choose a range of areas to explore in the classroom. The children here have chosen the Peppa Pig area and the maths area. The children are able to make choices independently about how to use each area.
Moving and handling: Nursery enjoyed Go noodle as part of our 'Staying healthy' week. We learnt about many different ways we can be healthy including eating a range of food types, exercising, getting plenty of sleep and drinking water.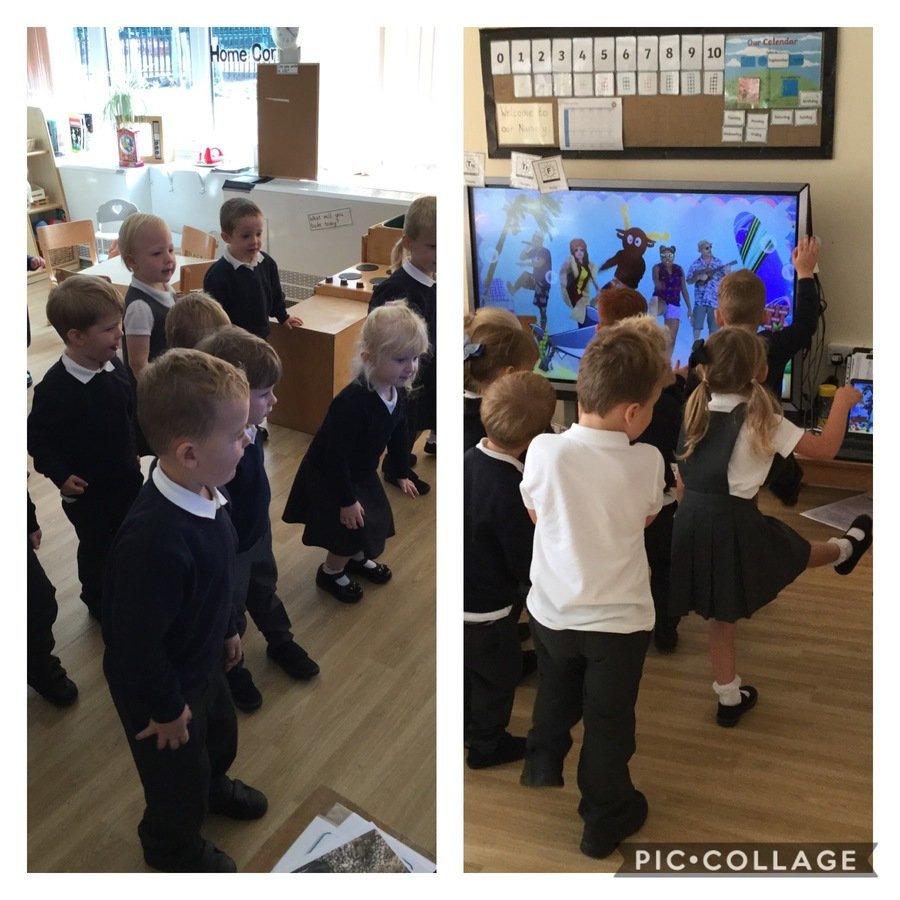 Fine motor control: Nursery have enjoyed many activities to develop their fine motor control. They have used small tools to collect dirt in the mud kitchen, made marks in shaving foam and made finger paintings. It is important to develop muscle tone and strength enabling them to hold paintbrushes, pencils more accurately.
Fine Motor Skills - The children explore making marks with the pens, the children give meaning to their marks and some children form shapes and recognisable letters. The children explore stacking the bricks, using hand-eye co-ordination to place the brick in the correct position.
Gross Motor Skills - During PE lessons, the children have been developing their gross motor skills such as throwing, running, jumping, rolling and climbing. The children have also been learning how to move around obstacles safely.
Fine Motor Skills: The children have explored a range of ways to develop their fine motor skills. They have also been able to select and use tools safely and for a purpose. The children have enjoyed using a range of cutters and rollers in the play dough area. The children have been developing skills in using scissors to effect changes to different papers and materials. The children have enjoyed exploring messy play opportunities such as finding the small items in the shaving foam.
Health and Self-Care
The children made a vegetable soup, they were able to talk about the different vegetables and how they help to keep us healthy. The children also used their fine motor skills to cut the vegetables into small pieces and to snap the spaghetti into small piece.
Health and Self-Care - The children participated in a 'Brush Your Teeth' challenge to promote oral hygiene and good practice with regards to brushing twice a day and visiting a dentist for regular check-ups. The children really enjoyed taking part at home. The children received a certificate and 10 golden gems for completing the challenge. The children were able to talk about all the ways to keep their teeth healthy including which foods and drinks are good for their teeth.
Writing: Nursery have been trying out lots of skills to help develop the muscles in their hands and fingers. They caught feathers using their pincer fingers and threaded cotton reels onto string. They have been making a range of marks and giving meaning to the marks they made. The children enjoyed making marks in the glitter tray and 'writing shopping lists' in the home corner.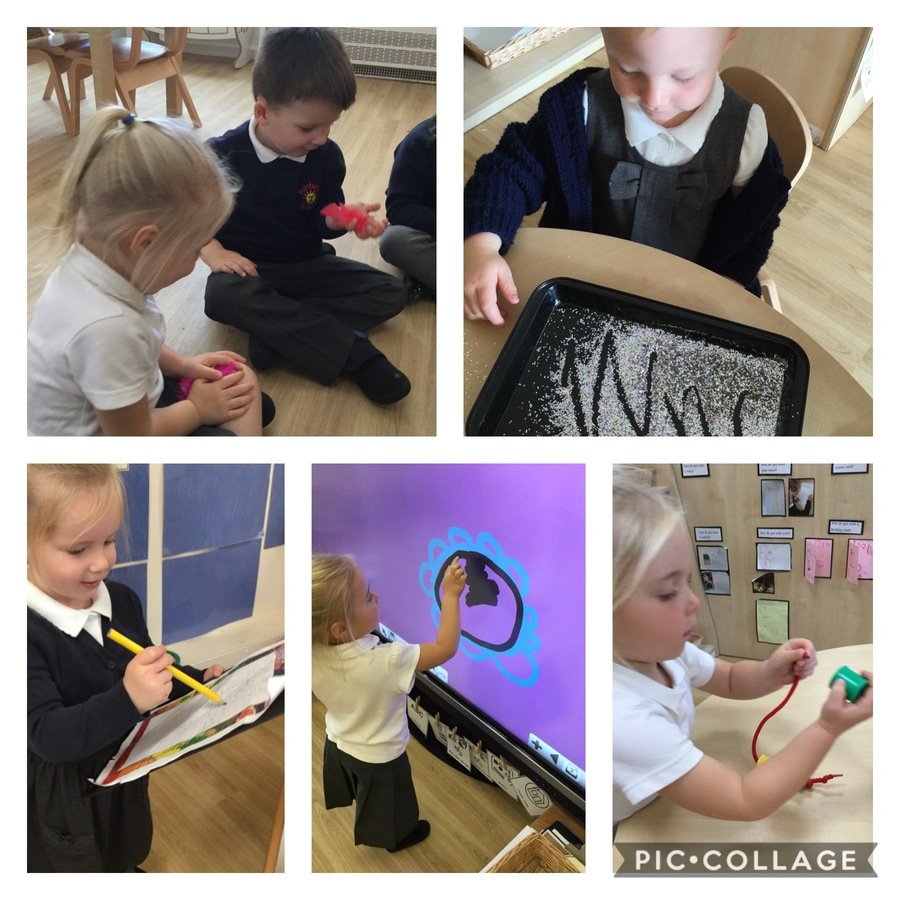 Mark making: The children enjoyed making marks, shapes and patterns in shaving foam. They gave meaning to their marks 'I've drawn mummy.'
Writing - The children explore the glitter trays to write their name. They also explore a range of opportunities to write their name such as with water on the chalk board and on the smart board.
Writing: The children have been learning how to form letters correctly during our phonics lessons. The children are learning how to sit in the correct position for writing and are developing their pencil grip.
Writing: Reception have enjoyed writing in lots of different contexts during the autumn term. They have written registers, written cards and letters in the post office and have drawn and annotated construction plans, just to name a few!
Writing: In literacy in the autumn term, Reception have learned to write a range of genres, including, labels, lists, instructions and fact writing, as well as how to write their own name.
Writing: The children have explored making marks and emerging writing. The children have been learning how to write their names including sitting position for writing and pencil grip. The children have enjoyed making marks using the clipboards in the construction area.
Reading: Nursery have been handling books carefully and accessing them independently. They have been repeating familiar phrases from stories and rhymes. In the home corner children have been showing interest in everyday print and illustrations in magazines.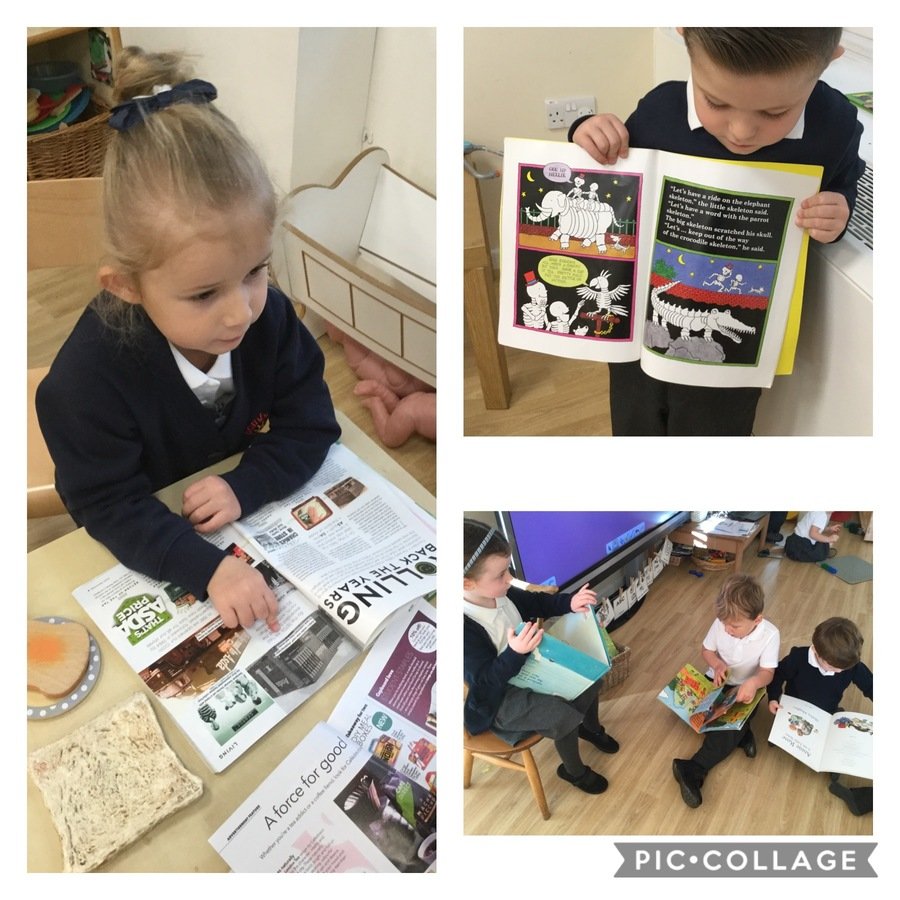 Reading: Children in Reception have been learning how to recognise graphemes and blend CVC words.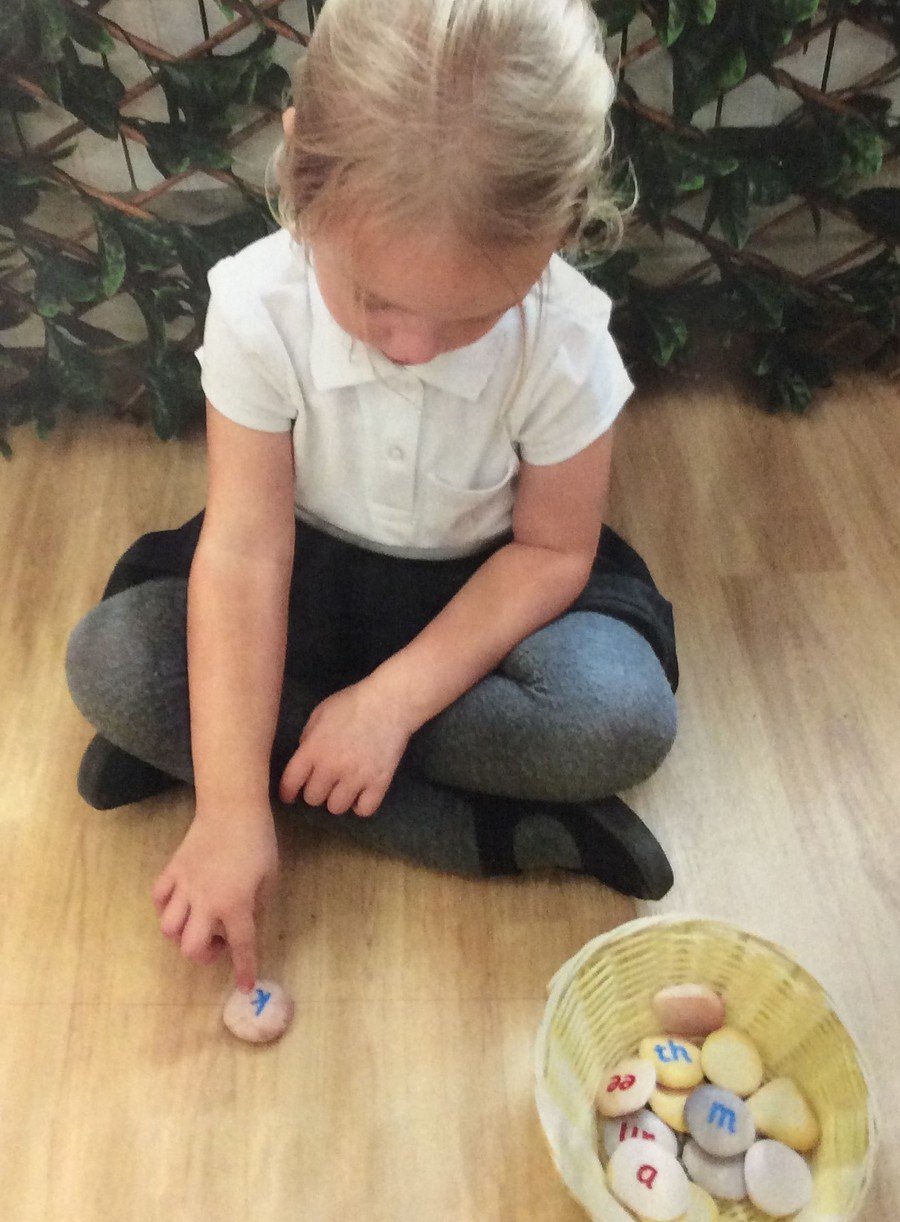 Reading: Children in Reception enjoy sharing books, magazines and other texts with friends and enjoy reading independently.
They know that they can find information in fact books.
They use pictures to tell stories.
They retell their favourite stories.
They recognise sounds and words.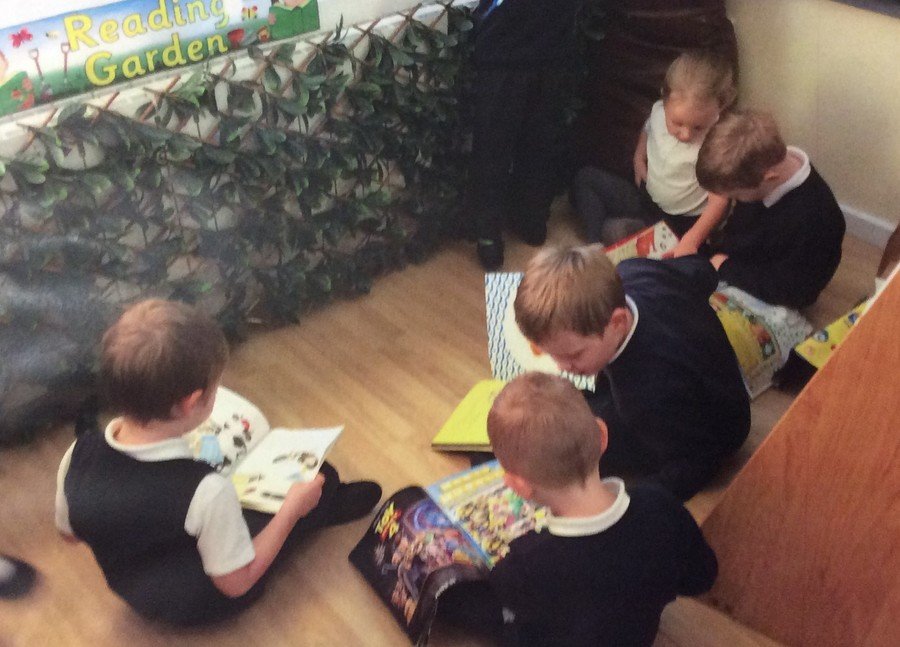 Reading
The children have been using the masks to re-tell the story of 'Little Red Riding Hood'.
The children use the magnet boards to read and make CVC words during phonics.
Reading
The children recognise 'red' words during phonics games. They are able to recognise individual sounds and begin to segment and blend sounds to read words.
Reading - The children enjoy sharing books and stories throughout the day.
Mathematics: Nursery have been using Numicon to help them learn about numbers and counting. They touch the holes and counted slowly and carefully. The children explored the Numicon shapes, pegs and boards in a play tray during free flow. They matched the correct number of pegs to the Numicon shapes.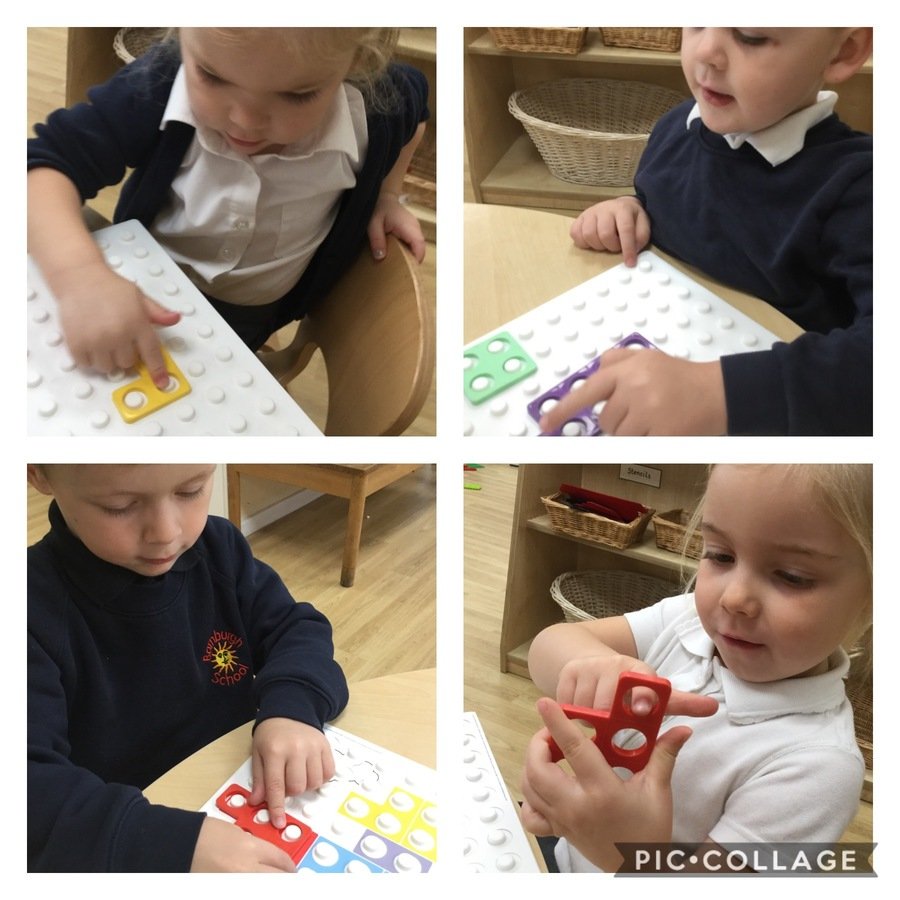 Mathematics: The children enjoyed rescuing the Peppa pig characters from the beach tray and then touch counting them carefully.
Mathematics: The children have been learning how to sort a range of items by colour, size, type and shape. The children are able to sort a range of objects according to a sorting rule and can identify a sorting rule.
Mathematics - The children have consolidated their learning about 3 sided shapes and how to represent and recognise numerals within 5. The children created triangular Christmas trees and were then able to recognise a given numeral and add the corresponding number of decorations to their tree.
Mathematics - The children have been learning all about weight and capacity and have explored key vocabulary such as full, empty, heavy and light. The children were able to follow instructions relating to capacity.
Mathematics - The children touch count each penguin, saying one number for each penguin that they touch.
The World: When Nursery went on an Autumn walk the children learnt about detailed features of their environment. The children could talk about things that they observed, for example, the changing colours of leaves and how they were falling to the ground. They found out about about seasonal changes and learnt a song called 'Autumn leaves.'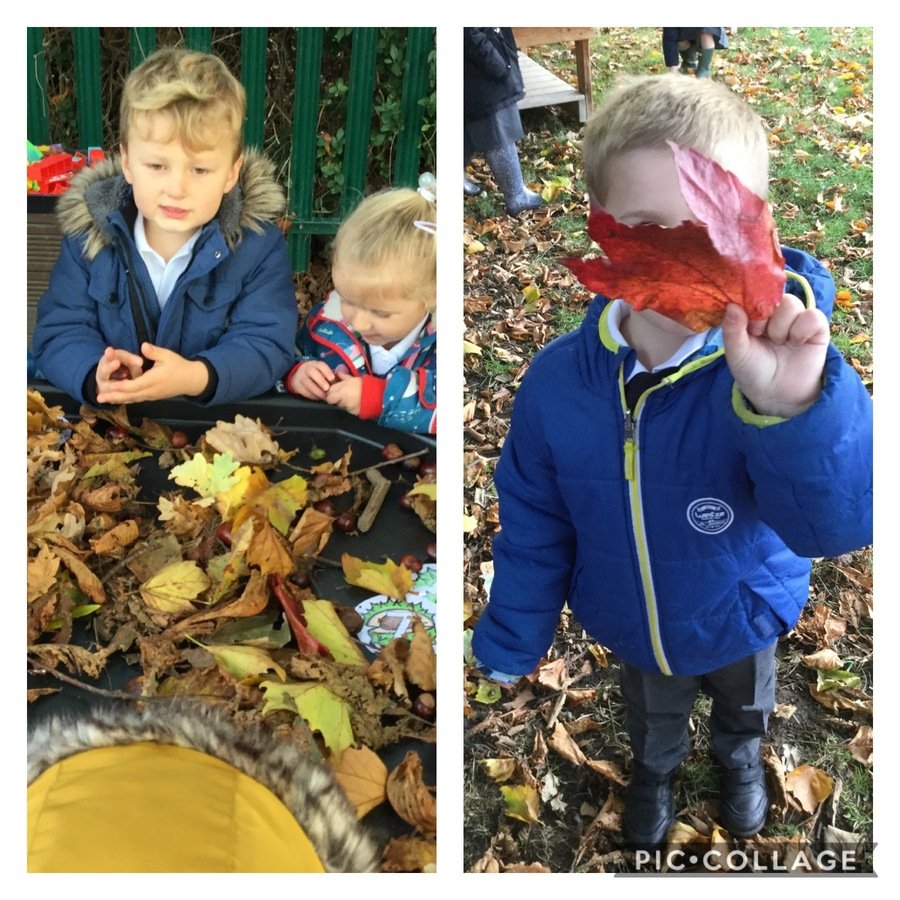 The World: The children enjoyed talking about their experiences of visiting the Dentist. They could share how they brush their teeth and keep their teeth healthy. They children cleaned the Gloop off the teeth using tooth brushes!
The World - The children have been learning how to make reindeer food that is also safe for pets, birds and the environment. The children used wild bird seed, apricots, suet pellets, meal worms and grated cheese to create their food.
People and Communities: The children have engaged with our Autumn 1 topic, 'People Who Help Us'. They have been learning about different occupations including dentist, doctor, nurse, teacher, fire fighter plus many more.
People and Communities
The children were fascinated to meet a real firefighter. They were able to ask lots of questions to find out what a firefighter wear, what jobs they do, how they feel when they go to an emergency and how they can make sure they are safe.
People and Communities
The children were able to explore a fire engine and find out how heavy the hose is and how it works.
The children enjoyed exploring the police van and finding out the role of police officers and how they help people.
Expressive Arts and Design
Being imaginative: Nursery have enjoyed taking on a role in their play using available resources and finding props. The children had great fun making a bus in the construction and then deciding where they were going to visit. When they were playing outside they enjoyed singing a range of familiar songs.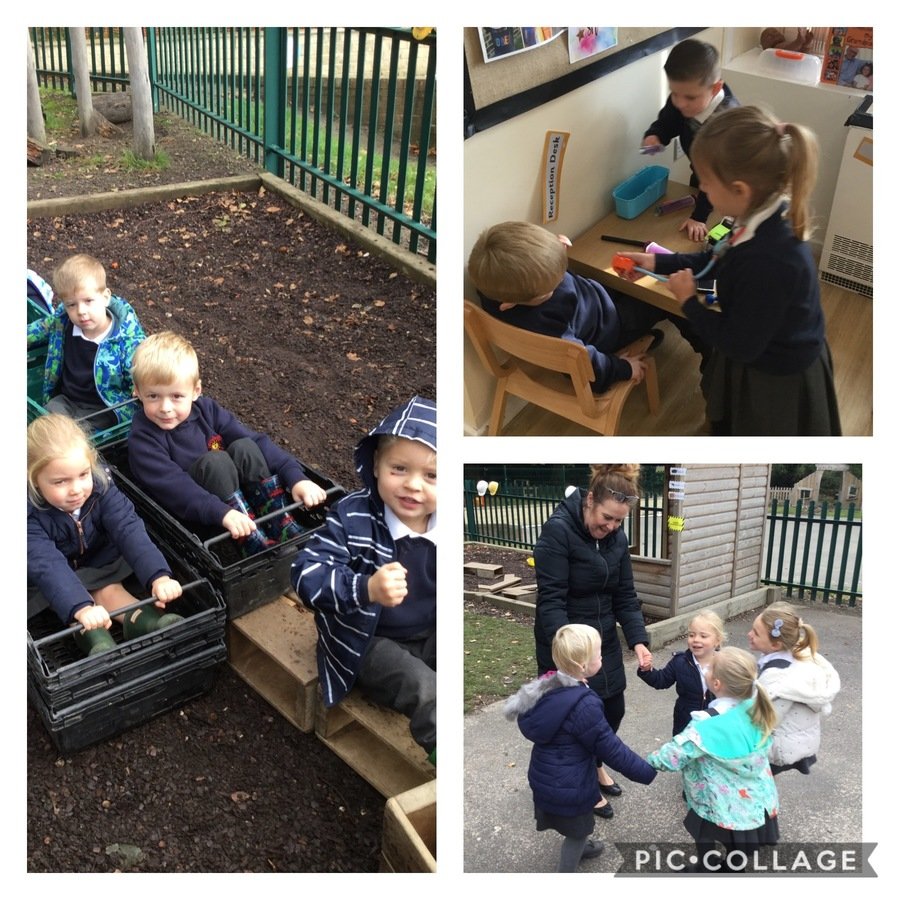 Being Imaginative and Expressive
The children enjoy taking on a role in their play to pretend to be a doctor, a builder and police officers. The children are also learning to share and take turns, listen to each others ideas and develop their language and vocabulary.
Being imaginative and expressive: The children enjoy role-playing 'kitchens' in the mud kitchen, mummy and daddy in the home corner, seaside in the sand area and castles in the construction.
Exploring and Using Media and Materials: Nursery enjoyed learning about Mono printing. They enjoyed exploring paint and making different colours, effects and marks in the paint. Once the print was complete they used a range of collage materials to decorate the print of a family member.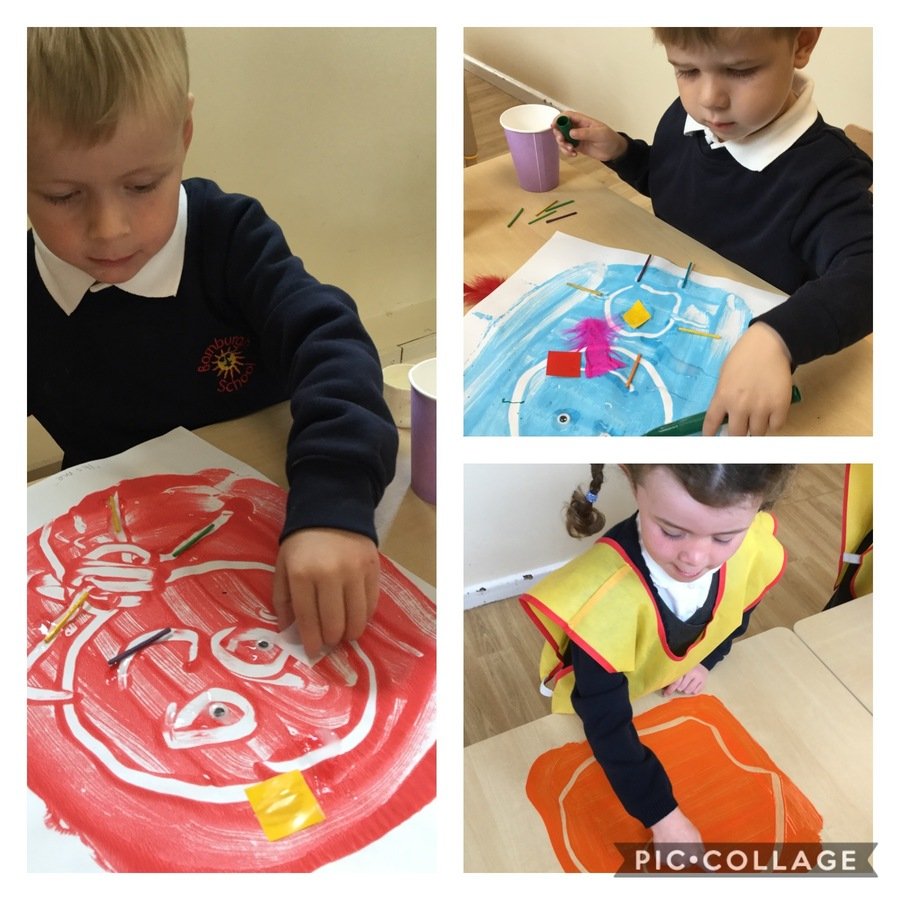 Creating with Materials
The children enjoy accessing the creative areas of provision, using a range of paints, pens and collage materials to create their own work.