Nursery
On Thursday 3rd March we enjoyed celebrating world book day. We LOVED reading with our year 6 buddy's. It was wonderful to finally mix with another class in school and see how, in such a short space of time the Nursery children developed in confidence with their new friends. The year 6 children made us very proud reading to and talking about stories with the children, making them feel comfortable and at ease. We listened to their stories from home, watched books on the smart board on the World book day website. We read a book all about a lady called Maria Montessori. She was the first lady to introduce curiosity and fun into learning. She used games and physical resources to make learning fun and from then on many nurseries and schools followed in her footsteps.
We had a fun filled day, listening to stories, pretend play and showing our love for reading!!
Literacy- Reading Nursery have been handling books carefully and accessing them independently. They have been repeating familiar phrases from stories and rhymes. In the home corner children have been showing interest in everyday print and illustrations in magazines.
Nursery - The nursery children enjoy exploring and sharing books in the outdoor area.
Reception have enjoyed exploring books and other texts. In phonics, we have been learning Set 1 sounds - focusing on initial sounds and beginning to blend CV and CVC words.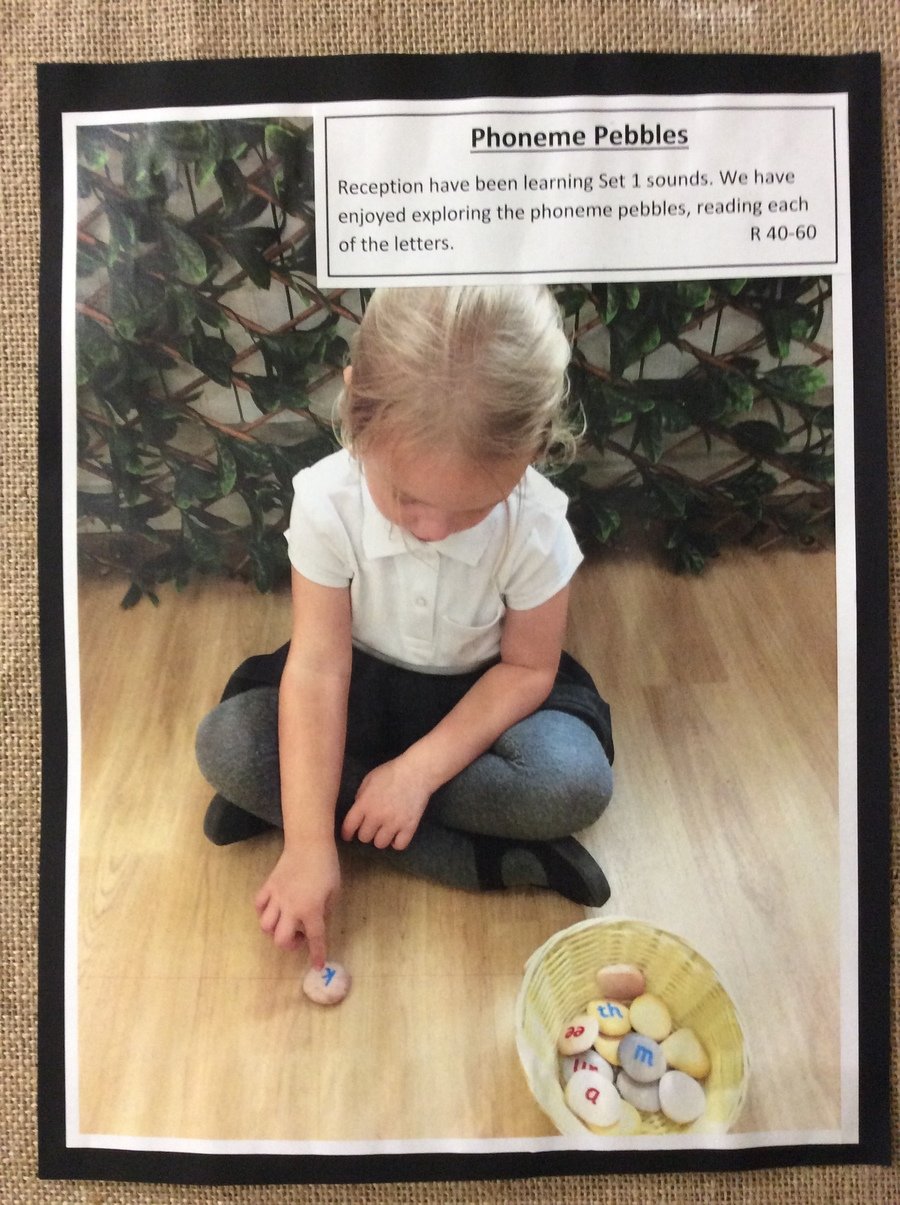 Reception - The children have been sharing stories each morning including familiar fairytales. They have used the pictures to help recall and retell the story. The children have shown how we handle books with care, holding them the right way up and turning the pages carefully.
Reception - The children here are enjoying sharing the story "Cat in a Bag" as part of their guided reading. Some children are accessing a phonics word builder game to read CVC words using the magnetic blocks.
Reception - The children enjoy reading during phonics. The children segment and blend a range of CVC words.
Year 1
On World Book Day the children brought in their favourite books from home and shared them with the rest of the class. They were encouraged to speak about why the book is their favourite and the part they liked the most.
"I love this book because its funny and it makes me smile. My favourite part is when the boy eats everything" (Charlie)
"Matilda is my favourite because I like the film. I'm trying really hard to read it." (Bella N)
"I've got the London Pop-Up Book because I like to see all of the 3D landmarks. I can read some of the words in it. My favourite part is the London Eye" (Alistair)
The children also joined with Year 5 and enjoyed some buddy reading. The children read with each other and were encouraged to use their phonics knowledge and skills to support their friends with reading.
Year 1
Year 1 love to explore different genre of books during guided reading. A few we have covered include; poetry, fairytales, non fiction and fiction. We have compared fiction and non-fiction books and are able to explain the differences such as a contents page, real information and made up stories.
In our sessions, we have been identifying the key features of a book e.g. title, illustrations, author, spine and blurb. The children are also encouraged to predict what the book may be about by looking at the front cover.
Year 2
We enjoy using our Phonics skills to read in year two. We spot special friends and red words when reading. We identify the title, illustrations, author and the blurb to help us predict what may happen in the book. When Eden had finished reading she was able to answer questions about the book and show a good understanding of what she had read.
Year 2
Reading for pleasure.
We enjoy picking a variety of books to read for pleasure in Year 2. From fiction, non-fiction, poetry and magazines. The children are especially enjoying chapter books at the moment. The children identify special friends, red words, punctuation, make predictions and use their phonics skills to read.
Year 3 - Reading for pleasure
The children love reading books from the book shelf or the ones they have bought at the book fair. They particular enjoy the comic books, magazines and the Guinness book of World Records.
Year 4
On Thursday 3rd March we enjoyed celebrating world book day. Year 4 enjoyed reading with the reception children. It was great to finally mix with another class in school and help build the confidence of children, by reading to others! The reception children made us feel very welcome and had a great range of books to share with the Year 4's. Both classes made us very proud. Year 4 loved reading to and talking about stories to each other throughout the day.
We had a fantastic time!
Year 5
In Year 5, we always start the day with reading for pleasure. We enjoy reading our own books from home or the books from our book shelf. We have librarians who monitor the book corner and make sure it stays nice and tidy - so our books look appealing. We have guided reading lessons everyday and enjoy reading topic themed texts, discussing these as a class and then answering questions about them. We also keep our reading resources on our tables.
Year 6
The children in Year 6 enjoyed their time to read in the mornings and choose from a wide range of texts on the book shelf - from magazines, to annuals, to novels. Year 6 are always engaged in their class novel each half term and it is clear that they have a real love of reading. Some of the children even helped with running this year's school book fair.
World Book Day 2022 - Year 6
Celebrating 25 years of World Book Day
For World Book Day 2022, Year 6 enjoyed a day of reading for pleasure! In their comfy clothes or World Book Day costumes, they started by choosing a book of their choice and enjoyed some quiet reading time. After speaking about the different ways in which we can enjoy books and reading, they then listened to David Walliams' 10-minute story share for WBD, where he read a section of his book - 'Fing'. Year 6 then made their way down to Early Years, to each buddy up with a child in Nursery to read to them. The children all absolutely loved this experience, especially having not being able to do it for so long, and Y6 were brilliant with the youngest children! This will definitely be a treat we will be organising again soon. After reading with Nursery, as a class we read our selected story from the 'Little People, Big Dreams' series. Our person was Vivienne Westwood, and through reading the lovely non-fiction, the children were able to hear new information about a specific individual and also hear about her love of reading. They then enjoyed another 10-minute story, this time of Tom Fletcher reading his book - 'The Danger Gang'. With a book of their choice, the children also worked in small groups to find the most adventurous place they could read around school or in the school grounds, and used an iPad to photograph the places they managed to read in. They finished with a fantastic visit from Mrs Wroe, Oliver's mum, who told us all about the importance of the skill of reading to be able to carry out her job as a dietician for the NHS and also about where her love of reading stems from: at Barnburgh Primary School, back when she was a pupil here. The children had a day jampacked with enjoying reading!