Maths Week 2021
8th - 12th November 2021
Maths Week England was set up in 2019 with the goal of ensuring that no children miss out on the opportunities that being a confident competent mathematician can give them. The aim is to help build a nation of confident mathematicians, who both use and enjoy mathematics. The vision of Maths Week England is to: 'provide young people in England with a positive image of mathematics, and to contribute in a small way to changing the national attitude towards this vital and beautiful subject.'
W/ 8.11.21
Nursery have been exploring rote counting, touch counting and recognising numerals. We have been counting when we are lining up, getting ready for lunch. We have been focusing on accurate counting, touching each item and then counting again to re-check the answer. The children enjoyed searching for natural objects like sticks, conkers, pebbles and then counted them. We enjoyed using the magnetic construction tiles to solve simple mathematical problems to build simple shapes and houses. The children recognised the shapes and colours that they used. Outside Nursery enjoyed building towers with the large blocks. They talked about which was the tallest and shortest and counted the blocks!
Reception
W/C 8th November - The children in Reception have been exploring counting to 5 and have really been embedding these skills. They have been touch counting the golden gems and representing the amount using the correct numeral, they have been exploring collecting paperclips with the magnets and counting the number of paperclips, matching counting bears to the Numicon and singing lots of number songs including: 5 Currant Buns, 5 Little Ducks and 10 Fat Sausages.
Year 1
Year 1 have taken part in various morning activities throughout the week to further enhance their maths skills. The activities provided a focus on more than, less than, equal to and also number bonds to 10. They were encouraged to use mathematical equipment and key vocabulary to explain their method. The children not only enjoyed these activities but it allowed them to consolidate previous maths learning using practical resources.
Year 2
LQ: How do you check your calculations?


The children were using their bar models to find out the inverse operations and to check their calculations. In order to remember the rule of inverse the children learnt a song. By the end of the session, the children were beginning to have a better understanding of the rules regarding inverse and how to explain how they checked their calculations. We are continuing to work on this.
Year 2
LQ: How do you use a tally chart to survey a traffic in the local community?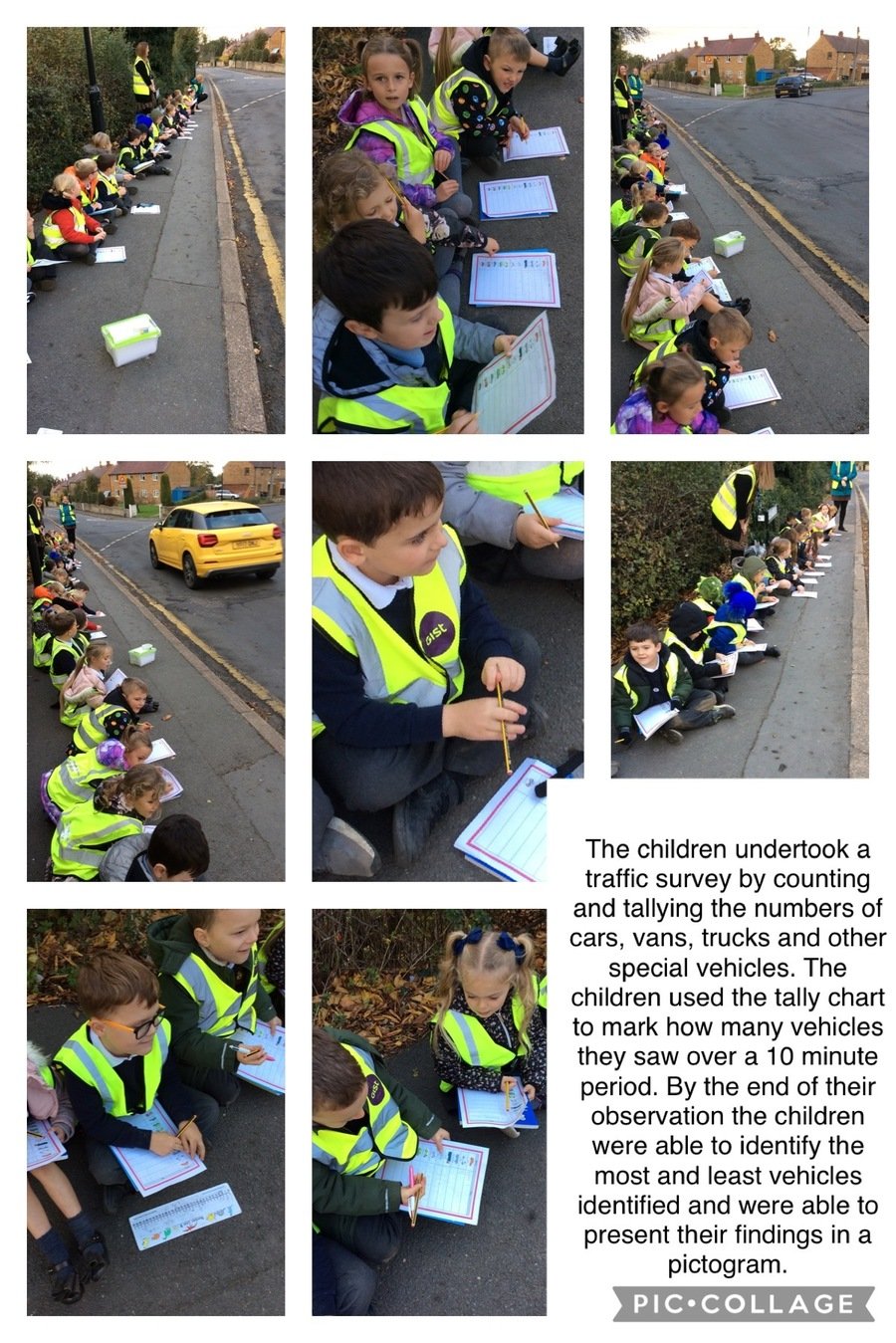 Year 3
The children completed a maths orienteering activity where they were able to work in teams to consolidate the learning they have done in Year 3 since September.
Year 4
Year 4 have taken part in several morning activities throughout the week to enhance their maths skills. These activities included addition and subtraction, multiplication and division and number bonds. This learning not only consolidated the children's knowledge of these mathematical areas but also developed their problem-solving skills too. The children enjoyed these challenges and engaged well with the different tasks throughout the week.
Year 5
During this week, we have begun a new topic of multiplication and division and the children have been fantastic at using their previous learning to talk about factors and multiples. As well as this, we have used our Maths learning in our Topic lessons. One of these lessons involved learning how to estimate time. We challenged each other to win house points – could we make a good guess at what time it was? Some of us were only seconds out! We also used our existing statistics skills to present data. We learnt about how the population data has changed over the last 60 years and presented this as a line graph. We worked in groups to label our graphs, plot the data and work out the increments.
Year 6
As well as working extremely hard to finish our percentages topic, and tackling some very tricky investigations as problem solving questions, Year 6 also attempted some other challenges for Maths Week 2021. Each morning, the Year 6 children had a different morning maths challenge to work through. They have attempted: yohaku puzzles, magic squares, used clues to guess the magic numbers, sudokus and cracked the code to figure out a bike lock. To finish the week, they were set a challenge called 'Lost in the Forest'. Year 6 were told a short story of how a group of children and adults had become lost in a forest whilst out on an adventure. In order to escape the forest, they needed to figure out the password to a phone which had the route out on it. They were given 10 clues to crack and each clue tested them as Year 6 mathematicians. It tested their knowledge of: fractions, coordinates, times tables, the four operations and much more. Almost everybody in Year 6 was able to crack all 10 clues and escape the forest!