Spring 2 - A Child's War
A siren sounds, a building crumbles, a Spitfire zooms overhead. Take cover. It's 1939 and Britain is at war. Deep down in the Anderson shelter, the children learn why nations are fighting and why child evacuees must make the long journey from their homes and families into unknown territory. Learn about the diary of Anne Frank, written whilst hiding from the terrifying stormtroopers in a secret annexe, and try to empathise with her hopes and fears. Make do and mend. Cook up a family meal from meagre rations. Delve deep into a bygone era, when loose lips sunk ships. And, as peace is declared, let's get ready to celebrate. Mr Churchill says 'It's an unconditional surrender.'
Class Novel:
Goodnight M
by Michelle Magorian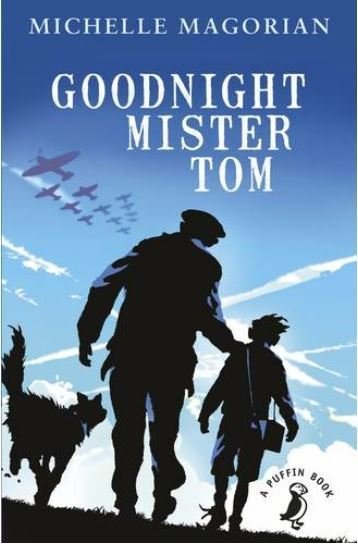 What do Y6 know? What do Y6 want to know?
Eden Camp Visit - Friday 4th March 2022
On Friday 4th March, Year 6 visited Eden Camp, in Malton, as part of their 'A Child's War' topic. In smaller groups, they made their way around as many of the 29 different huts as they could, learning about different aspects of WW1 and WW2. The children visited huts about: prisoners of war, the women at war, the rise of Hitler, U-boats, music during the war and so much more. Despite the very wet weather, the children loved making their way in and out of the different huts, getting to read more information about the war and seeing real life artefacts from those times. In the chapel, the children were extremely respectful and showed their appreciation of the people who lost their lives for their countries. They were also interested to see the 'Dig for Victory' little garden, as this linked back to the Sow, Grow and Farm topic they completed in Year 5.
After eating their lunch in one of the mess huts, the children re-visited some of the huts that particularly intrigued them. Lots of Y6 were interested in the U-boat and how these were used in the war. The children finished the day by spending some time on the 'Prisoner of War Exercise Compound' then visiting the gift shop.
It was wonderful to see the children so engaged and hear them sharing their own knowledge which their family members had told them, in addition to what they were reading at Eden Camp.
Year 6 learnt about evacuation and how children were sent away to the countryside, when their homes in the city were being bombed. They learnt about how each person was provided with a gas mask and a box, which they took with them wherever they went.
Year 6 learnt about the bombing of cities during the Blitz. Before researching the Blitz to make a Blitz survival guide, they made their own Blitz landscape artwork. The children used a range of mediums, including: pastels, oil pastels and paper.