Home Learning
Please see the selection of home learning tasks available.
A selection of the amazing home learning that has been written and created this week.
Sharing Home Learning and Experiences
Over the next few weeks, it would be fantastic to share some of the experiences and learning the children will do. We are working hard to find a suitable way of doing this.
One option is SEESAW. This allows the children to upload to a class page. This is secure and can only be accessed by joining our class. All posts would be moderated before being added.
This would allow adults and the children to see what the children have completed over time and create a digital memory book.
The children can record work, pictures, video of activities and music.
Of course the usual restrictions and advice applies to posting on line.
If you would like your child to access this option please email me and I will reply with the access code and instructions.
Learn Sign Language with the Doncaster Deaf Trust
Free Online Course
Doncaster Deaf Trust has spent 190 years doing as all we can do to support deaf people. This free, online British Sign Language course is our latest innovation. We hope that, by providing a completely free, level one in British Sign Language that you will be encouraged to have a go, learn some of the first language used by deaf people across the UK and so make the lives of deaf people everywhere, so much better. The development of the course has been made possible by the wonderful support of the National Lottery Community Fund.
Please login using the form below or click the button to signup for a new account
Disney inspired challenges - It's learning honestly - Just don't tell Mrs Potts!
Movie Challenge - Can you create a scene from your favourite movie?
Manchester Children's University
Click on the picture below to visit the children's university. We have used this fantastic resource below to learn about teeth, but there is much more to learn about on here.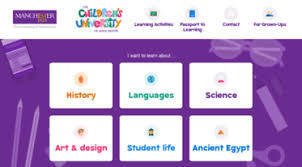 Lego Challenge - Remember to take a picture each day!
Simple Outdoor Learning Ideas - Great for the garden or your daily exercise time
Topic Home Learning
Click on the link to find out more about the Anglo-Saxons and Vikings.
Choose from the home learning menu below. We will be looking at this topic during the Summer
Traders and Raiders Home Learning Task
Languages Learning
DuoLingo - App or online learning to help speak a foreign language. This is free to use!
PE Home Learning
The following home learning tasks are available for computing. Click on the links to go to the websites: