Welcome to Year 2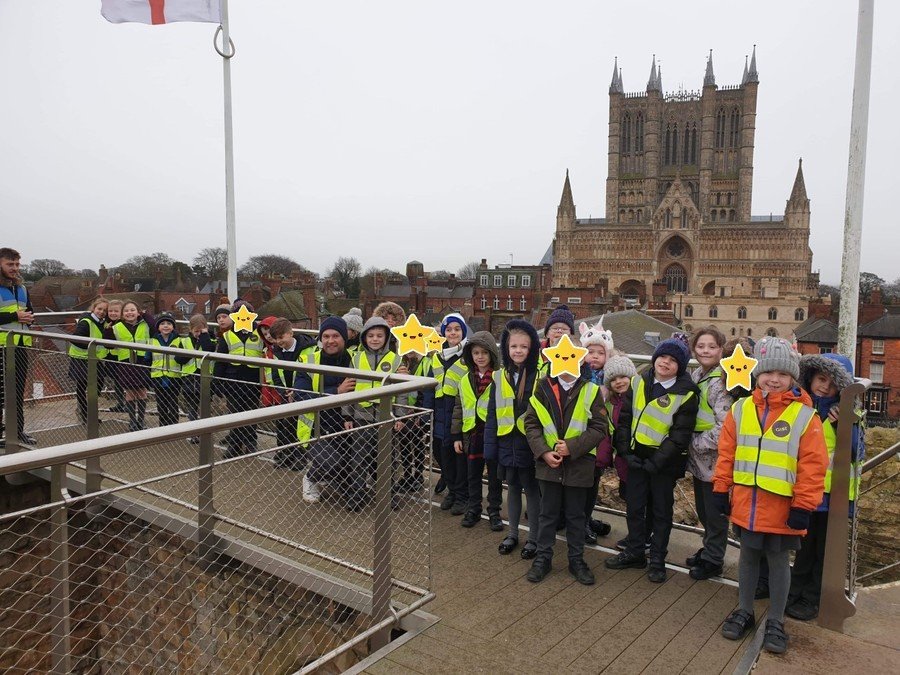 Spring 1 Newsletter
Dear Parents/Carers,
Happy New Year! I hope you have all had a wonderful Christmas and New Year. It has been fantastic hearing about all the excitement and fun the children had over the festive period. I would also like to thank you for all the support with preparing costumes and supporting the children at the Nativity performances. I was really bursting with pride throughout the performances and in the words of Maurice our Mule 'wasn't it amazing!!!' I would also like to take this opportunity to say a massive thank you to Mr Fudge who worked with the class last half term, I know a lot of the children are going to miss him.
This term the children will begin to explore the topic of 'Towers, Tunnels and Turrets'. This topic has a strong focus on design technology. We will be looking at how towers, bridges and tunnels are built, designed and strengthened. We will also investigate tunnel habitats, apply mathematics to measure towers and investigate some of the different structures around the world. History will also be a strong focus, with the children having the chance to visit Lincoln Castle.
Throughout the year we will be focusing on the basic skills across the curriculum. We will be encouraging the children to continue developing skills such as handwriting, reading, spelling and mathematics. In English this half term our writing opportunities will focus our trip to Lincoln Castle. In maths the focus will be on division and fractions. Reading will see children build on the phonics skills they worked so hard on last year, as well as developing the ability to predict, infer, retrieve and discuss.
As a school, the expectation is for children to read 3 times a week at home with an adult. This should be recorded on the home learning sheets each week. As a class we will once again be running a reading challenge this half term. Every time your child reads at least three times a week they will move across the clouds. Children who read three times a week across 4 weeks of the half term will earn house points for their house.
Children are encouraged to change their own books as required from the class library.
Please could I ask that PE kits are sent into school on a Monday and remain in school all week. It is really important that children have both indoor and outdoor kits in school. With the cold weather, please could you ensure that children have a warm jumper or zip top. However this cannot have a hood attached. Unfortunately children without PE kits will be unable to complete the PE sessions.
Reminders
Homework - Issued on a Friday. Should be returned on Thursday in the clear homework bag.
Spellings - Children will only be issued with the incorrect spellings to practise.
PE - PE kits should be in school from Monday. Normal PE days are Tuesday.
We look forward to working with you and your child this year. Thank you for your support.
Mr Taylor and the KS1 team.
Year 2 Homework
Homework will be issued on a Friday.
Children will be expected to complete:
Spelling Shed activity

Continue to learn this terms Key Instant Recall Facts

Read to an adult at least three times a week.
Click on the logos below to go to the log in pages.
Year 2 Key Instant Recall Facts Homework
Year 2 Curriculum Expectations
Common Exception Words - Children are expected to be able to read and spell these words by the end of KS1.
READING IN YEAR 2
School is an important part of your child's life.In Year 2 we will encourage your child to retell a story they have heard. This will help your child to put ideas in the right order. Children will also be encouraged to read things around them – cereal packets, notices and signs.We will discuss words. Children will have the opportunity to read each morning and will also have guided reading sessions each day.
Read with your child – 10 minutes a day can help. We will send home levelled books once a week, but we also strongly encourage children to read books they have chosen. This is really important to help develop their love of reading
10 MINUTES A DAY
"Reading aloud is much more than just telling a child a story and if you can spare 10 minutes a day you can make a huge difference to their development," said Inez Bailey, CEO, National Adult Literacy Agency (NALA).
"Storytelling is not all about teaching your child to read. You learn to talk a long time before you learn to read, and sharing stories and giving your child time to respond is a wonderful way to help your child's language development", she said.
"Reading aloud combines the benefits of talking, listening and storytelling within a single activity and helps to build the foundation for language development. From stories your child learns many things such as how to listen and concentrate, new words and understand why things happen. They also learn to put ideas in order, develop their memory skills, notice how spoken words relate to words on the page and learn how to predict," she said.
"The most important thing is that reading is fun and enjoyable for both of you – just turn off the TV and find a quiet place so there are no distractions. And remember stories are not just found in books, it's just as good to tell your child short, simple stories you know. The most important thing is that you enjoy it, that way your child will too.
RECOMMENDED READING BOOKS IN YEAR 2
In Year 2, it is important to start to move from sharing picture books into sharing chapter books. These will not only provide a meaty read, but also demand that the children use their imagination. Of course, there are also many Reception and Year 1 children who will sit and enjoy a chapter book and this should form part of their reading experience. Many of the chosen books operate on different levels - from the satisfaction of good stories to the exploration of deeper themes.
Here are a few suggestions:
Traction Man is Here

Meerkat Mail
Amazing Grace
Pumpkin Soup
Who's Afraid of the Big Bad Book?
Dr Xargle's Book of Earthlets
Not Now Bernard
Tuesday
The Flower
Gorilla
Emily Brown and the Thing
Frog and Toad Together
The Owl Who Was Afraid of the Dark
The Giraffe, the Pelly and Me
Fantastic Mr Fox
Flat Stanley
Willa and old Miss Annie
14.01.20 As part of the children's engage activity for our topic 'Towers, Tunnels and Turrets' the children visited Lincoln Castle. The children learnt all about the customs and traditions of life in a castle as well as having an opportunity to take part in some Medieval learning!
08.01.20 As part of the childrens engage activity for our topic 'Towers, Tunnels and Turrets' the children have been making and labelling their own castles.
RE - as part of the children's RE express they have been making Christmas cards and thinking about why we send messages of thanks to each other at Christmas time.
Christmas Concert - thank you all for coming to our Christmas Concert! The children had an amazing time and loved performing for their friends and families.
RE - the children have been looking at the different Christmas traditions and how they came about. The children then went on to make their very own Angel.
Express - as part of your Express Event for Muck, Mess and Mixtures the children worked with their adults to make Ice Cream and then had a look at some of the learning that the children have completed this term.
As part of the children's work in RE(focusing on Christmas and advent) they have been making wreaths with the PTA.
The children worked in pairs and small groups to make one of George's Marvellous Medicines. They used their measuring, reading and teamwork skills to help them complete their learning.
Topic - the children looked at how blowing bubbles out of paint can create patterns when printed onto paper.
For World Mental Health Day the children took part in some amazing activities - they mediated, had a yoga lesson and completed some mindful pieces of art.
To celebrate Harvest Festival we wrote group acrostic poems and read them out in church. All the children worked really well as part of a team.
As part of our topic lesson we looked at estimating and measuring using a set of weighing scales.
As part of our topic lessons the children looked at food colouring and milk swirling to make patterns. They also looked at how washing up liquid can clean it all up!
RE - as part of our engaging experience for our RE topic of Judaism, the children looked at the importance of candles during Hanukkah.
05.09.19 As part of our topic 'Muck Mess and Mixtures' the children took part in a messy play afternoon. They looked at what happened when powder paint mixed with shaving gel.