Nursery 2019 to 2020
Welcome to Nursery
"Children are inspired to learn, which is reflected in
their positive behaviour. Children happily play, share and
learn alongside each other". Ofsted 2019
Class information
Teacher: Mrs Ocock
Nursery Nurse: Miss Allison (all day - Nursery) and Mrs Norman (mornings - Nursery/ Reception)
Our Current topic: UNDER THE SEA (SUMMER 2 TERM)
A special message from Mrs Ocock…
Hello Nursery Superstars!!!
I hope that you have all had a fantastic half term in the sunshine. The weather has been lovely!
This term is going to be another very different term to the 'norm'. I hope to continue to support your learning at home as well as welcome some of you back into school in the next couple of weeks. We are busy preparing school so that it is safe for you to come back, see some of your friends and continue all of our fun learning! Our topic this half term is UNDER THE SEA. The home learning will include learning focussed around sea themed stories such as The Rainbow fish, Sharing a shell, Barry the fish with fingers etc. Your grown ups can find lots of learning that we would have been doing if we were in school on our class pages...I will add weekly Phonics, Maths and Topic challenges. There are lots of fun activities to keep you busy.
Keep up the hard work Nursery we are all still missing you very much. We love seeing your photos, videos and reading your messages. You are all continuing to make us proud and working hard at home.
Love from
Mrs O xx
Here is a very special welcome back video from all of the
Foundation Stage staff...
Summer 2
W/B 13.7.20
We have had a wonderful last couple of days in Nursery this week. Thank you for all the kind gifts, cards and well wishes.
Have a fantastic summer holiday!
Summer 2
IN- SCHOOL SPORTS DAY 7.7.20
W/b 6.7.20 In school learning...
Another wonderful two mornings with our lovely Nursery...and a few extra friends too to join in the fun!
Summer 2, w/b 29.6.20
We have had lots of pirate fun this week. We have made pirate hats, used a treasure map to find the missing numbers and learnt how to speak 'Pirate'.
Here are some of the photos...
Summer 2, w/b 22.6.20
This week we welcomed a few more of our lovely Nursery friends back into school. The children have absolutely loved being back at school and seeing their friends. We have felt very proud of how they have settled straight back in and adapted to the changes. Well done Nursery!
Look at the fantastic photos of the children learning and playing in school!
Summer 2, W/B 15.6.20
Welcome back into school children!
This week we look forward to welcoming some of our children back into school...we cannot wait to see you. We will be having lots of fun.
In school we will have a focus on handwashing, safety around school, singing songs, counting and lots more. Please see our class pages if you would like to try some of our learning at home.
I will add photos of our fun learning in school here at the end of each week!
W/B 15.6.20
The Nursery friends that we welcomed back into school this week have had a wondered time. They loved playing with their friends and a little bit of learning! Here are a few photos.
COVID-19 Please see home learning tabs for further information ideas and photos...
Phonics and Literacy
Maths
Topic and creative ideas
Photos
Our photo gallery- until COVID-19
Caterpillar Update - 27.3.2020
We now have four chrysalises!!!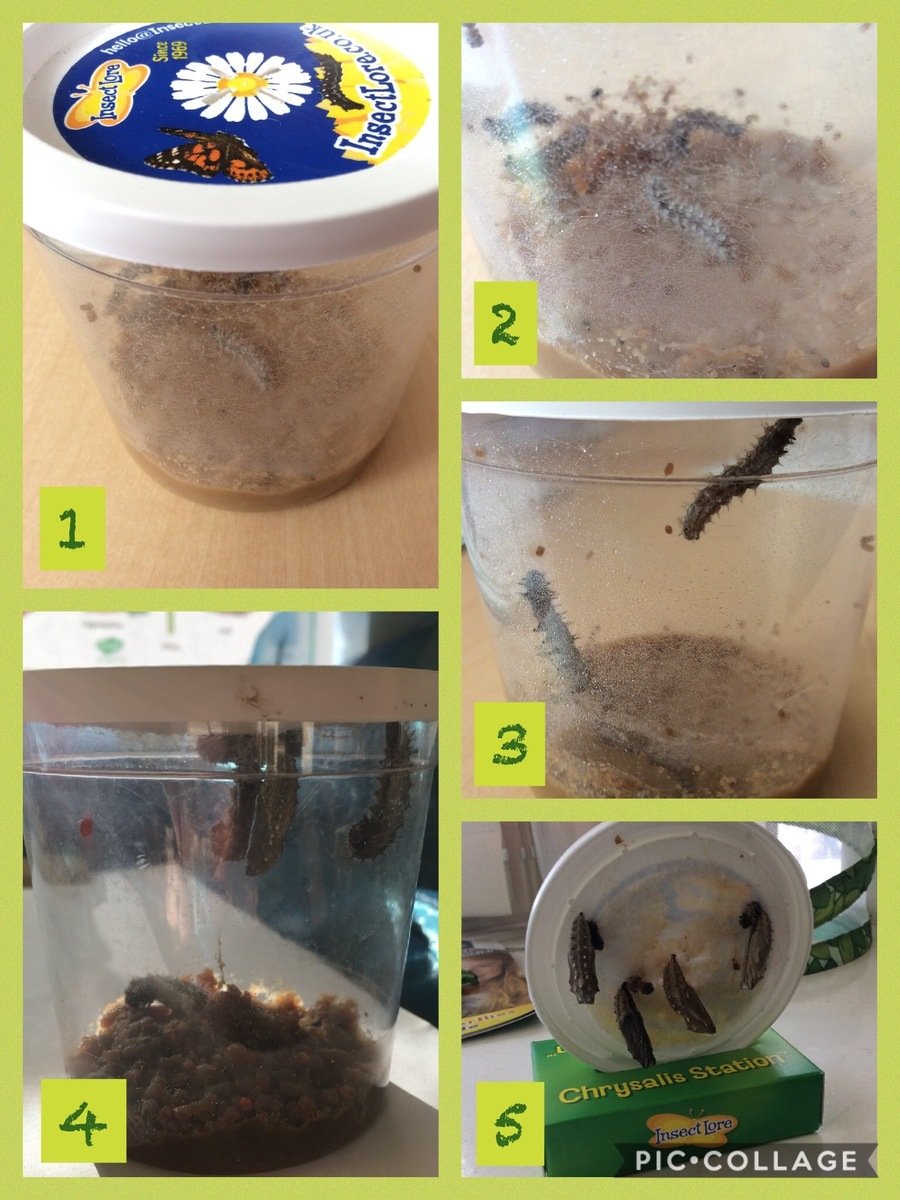 World Book Day 5.3.2020
Nursery had a wonderful day celebrating World Book Day. We enjoyed dressing up as our favourite book characters, we shared stories with our Y3 Buddies, made book marks and enjoyed stories in Walt's wood.
We also joined the rest of school in the hall for a special Book day assembly! We showed off our fantastic costumes!!
Pancake day 25.2.20
Nursery have been learning about Pancake day. They enjoyed making their own, measuring the ingredients, stirring it and then of course eating them during snack time! We also wrote about how we made them.
Numicon Maths W/c 10.2.20
Nursery have been using Numicon to help them learn about numbers and counting. They have been recognising the shapes and numbers, adding them together, saying 1 more than. They have also been using the tweezers to count the correct number of pom poms onto their Numicon shape.
Chinese New Year W/C 27.1.20 and 3.2.20
Nursery have been learning all about the Chinese New Year. They have made Chinese lanterns, money packets and learnt lots about Chinese traditions and how families celebrate the New year.
We enjoyed tasting Chinese food too!
Outdoor mark making
Spring 1
Nursery have been exploring different ways of mark making outside. It has been lots of fun. So far we have painted with a special muddy mixture, used chalk boards, made marks on CD's, used felt pens and wax crayons to draw on sandpaper and lots more...
Bedtime reading event 27.1.20
Nursery LOVED our bedtime reading event. We want our children to be excited and interested in reading, so we invited them to come back to school in the dark for a very special bedtime story! The children arrived in their pyjamas. First we enjoyed a bedtime story together and then we explored the different themes. We even enjoyed hot chocolate!
"It is the best school day ever."
On Monday the 13th of January we enjoyed our ENGAGE event. We dressed up as animals from the Polar Regions as part of our new topic FROZEN KINGDOM. It was a fantastic day, lots of great costumes and very excited children!
Week beginning: 6th January 2020
Penguins and Polar bears!
Nursery have been learning about animals from the Polar Regions. As part of our Expressive Art and Design and Physical development learning the children looked carefully at photographs and painted their own Penguins and Polar bears. Didn't they do an amazing job!!
Week beginning: 6th January 2020
MATHS
Nursery have been learning about touch counting accurately, rote counting, 1 more than. They have been working out which Penguin has the most and least fish for their dinner!
Christmas 2019
What a very busy half term we have had. Here are just a few photo's so that you can see how busy we have been. We have made Calendars, cards, written letters to Santa, done lots of concert rehearsals, mark making/ writing to go with our nativity photographs, visited church, had a special visit from Santa, did Christmas tree counting and lots, lots more...
Have a very HAPPY CHRISTMAS from us all xxx
Come and celebrate EXPRESS event 5.12.19
Our lovely Nursery children and families enjoyed their first express event. We have been learning about many celebrations, such as Harvest festival, Halloween, Bonfire night, Remembrance Day, Diwali... our final and most exciting celebration is of course CHRISTMAS!! We hope that you enjoyed it!
Diwali
We have had great fun learning all about Diwali!
Children in need 2019
Nursery had fun dressing up for children in need. They made yummy rice crispy buns and took part in lots of Pudsey bear fun!
Friendship bracelets!
Nursery made their own Friendship bracelets. We talked about how we can be a good friend and show kindness to everyone around us. The children were very grown up and each chose a bracelet out of the basket. We read whose name they had on their bracelet.
Odd Socks Day!
On Tuesday 12th November we wore Odd socks to school as part of our Anti-bullying week work. We have been learning all about friendship and kindness.
Remembrance Day!
We will remember them!
Nursery enjoyed watching an animated video clip named 'Poppies' explaining the significance of Remembrance Day in a child friendly way. The children have made poppies and took part in our whole school Remembrance assembly. The Nursery children made us very proud...they sat so still and were silent for the full 2 minutes! Well done Nursery!!
Bonfire night theme
Last week we used the Glow pads to mark make shapes and letters to go with our marble rolling prints that we did. We also used colourful pom poms for our Maths learning. We sorted the colours and touch counted them. We made them look like fireworks on black paper!
We also encouraged mark making/ writing/ drawing by covering the table in paper...we had lots of pictures, name writing and interests marks like zig zags, circles, dots and lines.
Fireworks pictures W/C 4.11.19
Nursery used marbles, mixed them into paints and rolled them around their paper in a tray to create Firework pictures. Then they added some glitter!
We had lots of fun celebrating Halloween for our ENGAGE EVENT!!
World Mental Health day 10.10.19
Our first walk to Church for Harvest festival service...
Welcome to Nursery
Our first few weeks learning...