Welcome to Year 2 2018 - 19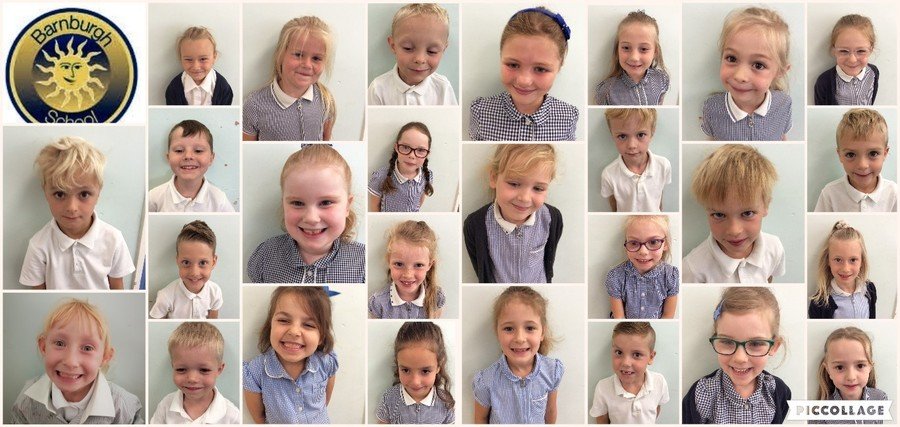 YEAR 2 NEWSLETTER
Dear parents and carers,
It is hard to believe we are over half way through the year. The children are really working hard and continue to impress us daily.
I would once again like to take the opportunity to thank you for the amazing home learning projects. We have really been blown away by the engagement in our Islam RE challenge. The children have really enjoyed learning about Jumu'ah and the projects definitely complement their class based learning fantastically. We have seen a variety of projects such as, visits to mosques, models, prayer mats and fact files. Please watch out for these on the class page of the website in the near future.
We are hoping to take the children on a visit to the local mosque in the near future. We are just finalising these details and more information will be sent out very shortly. I really do think this will be a fantastic opportunity for the children to learn about the wider religions first hand.
This half term the children will continue to explore the topic of Towers, Tunnels and Turrets'. This topic has a strong focus on design technology. We will be looking at how towers, bridges and tunnels are built, designed and strengthened. We will have the opportunity to experiment with our own structures. We will also investigate tunnel habitats suitable for a very wriggly creature as well as looking at different architectural feats created by Brunel.
The express event for this topic will take place on the 3rd April at 2pm. We have an exciting innovate challenge for you to complete with the children at the event.
We will be continuing to focus on the basic skills across the curriculum. In this respect there will continue to be a strong focus on developing skills such as handwriting, reading, spelling and mathematics. In English this half term our writing opportunities will focus on the book 'We're All Wonders.
In maths the focus will be on fractions, focusing on halves, quarters and thirds. We will also continue to develop the children's arithmetic skills, in preparation for the end of key stage assessments.
Reading will see children build on the phonics skills they worked so hard on last year, as well as developing the ability to predict, infer, retrieve and discuss. Although the children are sent home with phonics books, we are more than happy to encourage the children to read books they 'love'. There are some suggestions of appropriate texts on our class pages, but encouraging the children to read widely and a variety of texts, will certainly help to develop their reading and language skills.
Please could I ask that PE kits are sent into school on a MONDAY and remain in school all week. It is really important that children have both indoor and outdoor kits in school. With the cold weather, please could you ensure that children have a warm jumper or zip top. However this cannot have a hood attached. Unfortunately children without PE kits will be unable to complete the PE sessions.
Reminders
Reading - Issued on a Friday. Should be returned on Thursday in the clear homework bag.
Spellings - Please log into spelling shed to complete the spelling challenges.
Maths—Please continue to complete Times Table Rockstars. KIRFS are also available on the class page.
PE - PE kits should be in school from Monday. Normal PE day is Thursday.
Thank you once again for your continued support.
Mr Longley, Mrs Kilby and Mrs Vockins.
Year 2 Homework
Homework will be issued on a Friday.
Children will be expected to complete:
Spelling Shed activity

Continue to learn this terms Key Instant Recall Facts

Read to an adult at least three times a week.
Click on the logos below to go to the log in pages.
Year 2 Key Instant Recall Facts Homework
Year 2 Curriculum Expectations
Common Exception Words - Children are expected to be able to read and spell these words by the end of KS1.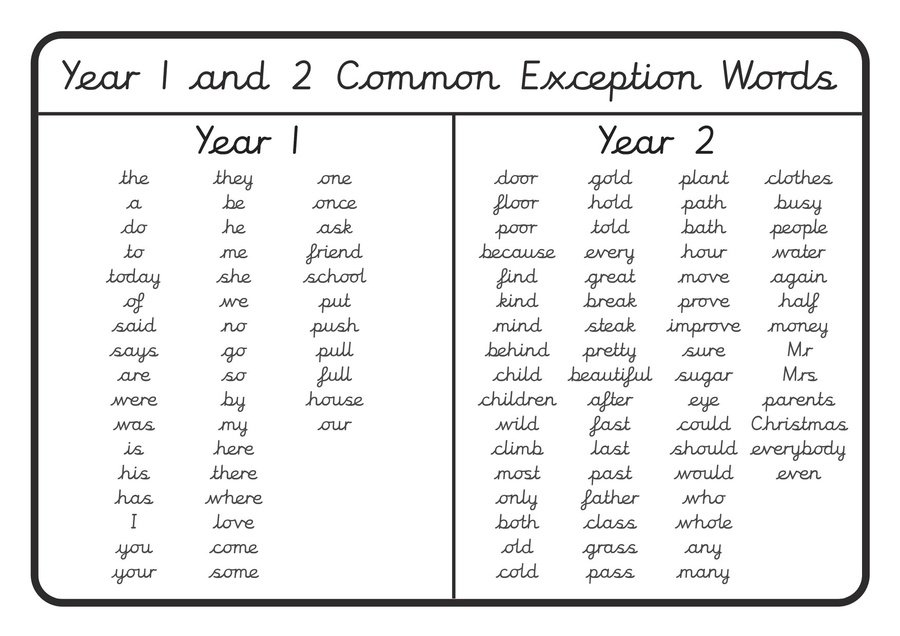 READING IN YEAR 2
School is an important part of your child's life.In Year 2 we will encourage your child to retell a story they have heard. This will help your child to put ideas in the right order. Children will also be encouraged to read things around them – cereal packets, notices and signs.We will discuss words. Children will have the opportunity to read each morning and will also have guided reading sessions each day.
Read with your child – 10 minutes a day can help. We will send home levelled books once a week, but we also strongly encourage children to read books they have chosen. This is really important to help develop their love of reading
10 MINUTES A DAY
"Reading aloud is much more than just telling a child a story and if you can spare 10 minutes a day you can make a huge difference to their development," said Inez Bailey, CEO, National Adult Literacy Agency (NALA).
"Storytelling is not all about teaching your child to read. You learn to talk a long time before you learn to read, and sharing stories and giving your child time to respond is a wonderful way to help your child's language development", she said.
"Reading aloud combines the benefits of talking, listening and storytelling within a single activity and helps to build the foundation for language development. From stories your child learns many things such as how to listen and concentrate, new words and understand why things happen. They also learn to put ideas in order, develop their memory skills, notice how spoken words relate to words on the page and learn how to predict," she said.
"The most important thing is that reading is fun and enjoyable for both of you – just turn off the TV and find a quiet place so there are no distractions. And remember stories are not just found in books, it's just as good to tell your child short, simple stories you know. The most important thing is that you enjoy it, that way your child will too.
RECOMMENDED READING BOOKS IN YEAR 2
In Year 2, it is important to start to move from sharing picture books into sharing chapter books. These will not only provide a meaty read, but also demand that the children use their imagination. Of course, there are also many Reception and Year 1 children who will sit and enjoy a chapter book and this should form part of their reading experience. Many of the chosen books operate on different levels - from the satisfaction of good stories to the exploration of deeper themes.
Here are a few suggestions:
Traction Man is Here

Meerkat Mail
Amazing Grace
Pumpkin Soup
Who's Afraid of the Big Bad Book?
Dr Xargle's Book of Earthlets
Not Now Bernard
Tuesday
The Flower
Gorilla
Emily Brown and the Thing
Frog and Toad Together
The Owl Who Was Afraid of the Dark
The Giraffe, the Pelly and Me
Fantastic Mr Fox
Flat Stanley
Willa and old Miss Annie
Reading Content Domains -How to answer questions.
Spring Term
Topic - Towers, Tunnels and Turrets RE - Islam
Doncaster West Neighbourhood Policing Team
Officers attended Barnburgh Primary School this morning and spent time with the Year 2 pupils who are learning about 'People who help us'.
It was lovely to meet you all!
British Values - Visit from South Yorkshire Police
Science Week - Identify that most living things live in habitats to which they are suited - Making wormeries
Red Nose Day Jokes Competition
Year 2 - Visit to Jamia Mosque - RE Islam - Jumu'ah (Friday prayers)
World Book Day 2019
World Book Day 2019 - Buddy Reading with Year 5
Islam - Spring RE Home Learning Topic Challenge
Islam Home Learning Challenge - Jumu'ah
RSPB - Big School Bird Watch & DMBC Energy Team - Bird Feeders
Towers, Tunnels and Turrets - Engage - Visit to Lincoln Castle
Towers, Tunnels and Turrets - Engage - Box Modelling
Towers, Tunnels and Turrets - Home Learning Topic Challenge
Autumn Term
Topic - Muck, Mess and Mixture RE - Judaism and Christianity
Year 2 Nativity Cast 2018
Making Christmas Lanterns
Muck, Mess and Mixtures - Express Event - December 2018
Remembrance Day 2018 - Art and Design Technology Work
Christianity- RE Topic Challenge - Christmas
Muck, Mess and Mixtures - Making Pizza
Muck, Mess and Mixture - Outdoor Learning Day and Engage 2
Year 2 - Judaism - Beliefs, teachings and sources - The Menorah
Art & design Create single and multicoloured prints using a range of printing techniques.
Muck, Mess and Mixtures - Engage Activities
Muck, Mess and Mixtures - Engage - Stress Balls