'The School Council is playing a key role. It is instrumental in communicating pupils' views to leaders and setting a good example.' Ofsted. 2016.
YOUR SCHOOL NEEDS YOU!
SCHOOL COUNCIL JOB ADVERT
We are seeking to appoint two highly motivated and inspirational pupils from each class to form our 2017/18 School Council.
We are looking for pupils who are:
Reliable

Trustworthy

Responsible

Friendly and approachable

Good at listening to everyone

Hardworking

Respectful

Passionate and enthusiastic

Confident.
If successful, you will represent the views of your class contributing to the development of Barnburgh Primary School.
Applicants should complete an application form and prepare a speech stating why they would be a good School Council representative.
The deadline for application forms to be handed in is Tuesday 19th September at 3pm.
The election process will take place on Friday 22nd September.
The results of the class elections will be announced in assembly on Tuesday 26th September.
Application forms are available from class teachers.
SCHOOL COUNCIL JOB DESCRIPTION.
The role of a School Council member is a very responsible one. You will be required to do the following;
Attend regular meetings with the headteacher

Always arrive on time for meetings

Always attend meetings well prepared with a positive, enthusiastic attitude.

Bring your folder to the meeting

Be prepared to talk to your class and sometimes the whole school.

Be prepared to present ideas to Governors

Listen to the views and opinions of all pupils including those in your own class.

Be prepared to report everyone's ideasand opinions even if they are not your own.

Organise times with your class teacher to discuss Council agenda items or to feed back information from Council meetings.

Wear your badge at all times so people know that you are a School Council representative.

Be prepared to present some assemblies with support from Mrs Potts.

Be prepared to make decisions on whole school issues.

Represent the school at local or national meetings.

Set an excellent example at all times.

Uphold the school's Core Values.
School Council
At Barnburgh Primary School our School Council is made up of two representatives from each class (not including Early Years). Each member of the School Council is elected onto the Council through a process promoting democracy. The School Council represents the views of all pupils and gets things done!
Our School Council meets weekly with Mrs Potts and discusses current issues that matter to the children. In addition, the School Council members are ambassadors for the school and attend special events in the local community.
Our School Council is made up of the following children;
YEAR 6:
YEAR 5:
YEAR 4:
YEAR 3:
YEAR 2:
YEAR 1:
Please click on the links below to view the minutes of our meetings and the impact of our work so far.
PLEASE SEE BELOW TO VIEW THE IMPACT OF LAST YEAR'S SCHOOL COUNCIL.
On Sunday 13th November 2016, representatives from the School Council attended a service of remembrance at St Peter's Church, Barnburgh. They made us very proud by reading some poems to the congregation that our Year 6 pupils had written. Please see the photo below.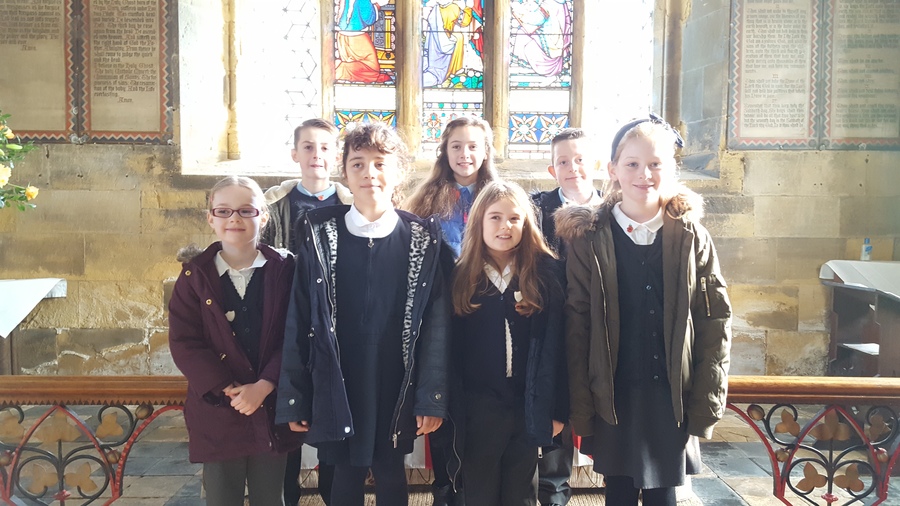 On Sunday 8th January 2017, three members of the School Council attended a service at St Peter's Church, Barnburgh with our Chair of Governors, Janine Reid, to celebrate the plough. They made us all very proud by reading a poem together during the service. Please see a photo and video of the reading below.